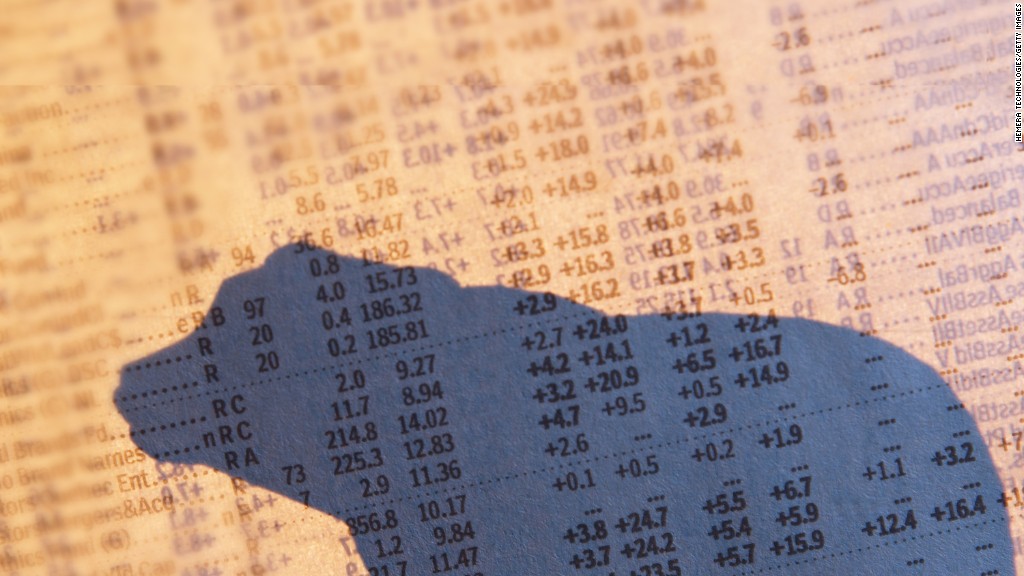 Volatility rocked U.S. stocks on Tuesday -- yet they finished almost exactly where they started.
The Dow closed with a loss of 13 points, but that masks wild swings throughout the day. The index opened down 146 points before rebounding and trading up 110 points at its peak. In a year marked by triple-digit losses, Tuesday's close was the Dow's smallest loss of the year.
The S&P 500 fell less than 0.1%, while the Nasdaq lost 0.4%.
Stocks continue to swing on turbulent oil prices, which plunged 6% to settle at $27.94 barrel on Tuesday.
Tuesday's performance embodied how volatile oil prices affect markets. Energy stocks tumbled 4%, compared with minor gains or losses for every other sector. Energy companies like Consol (CNX), Oneok (OKE) and Southwestern Energy (SWN)were among the day's biggest losers, each shedding 10% or more.
Related: Why the Nasdaq is on the verge of a bear market
Low oil prices are great for spenders at the gas pump, but they're spreading fear about energy companies potentially going bankrupt. There's also fear about the oil trouble spilling over into the financial sector, which has loaned lots of money to energy companies.
"There's concern that it's starting to spread to other parts of the economy," Doug Cote, chief market strategist at Voya Financial. "I am concerned about European banks."
The volatile market action comes during what's been a terrible start to 2016 for U.S. stocks. Worries about cheap oil prices and global growth have sent the S&P 500 9.4% lower so far this year.
Related: Global central bank are running 'out of ammo'
The Nasdaq has now plunged 18% from its all-time high set last July. If the index sinks below 4,185.55, it will be in what's known as a bear market, signaling a 20% decline from previous highs.
Global markets are also under pressure. Stocks in Japan plummeted 5% on Tuesday, while European markets closed down about 1%.
--CNNMoney's Matt Egan contributed to this article.