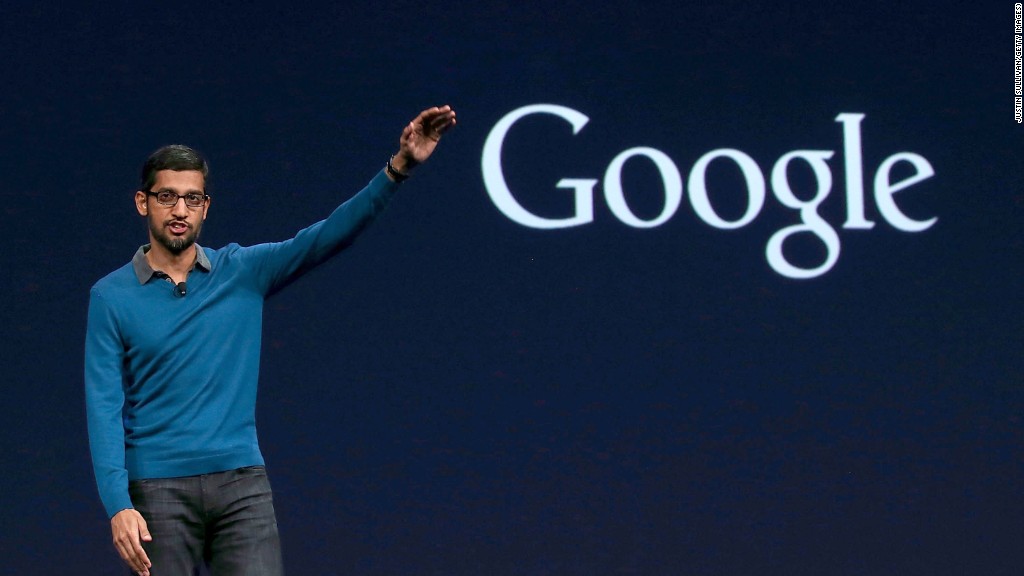 It pays to be the CEO of Google.
Sundar Pichai has vaulted into the ranks of the world's highest-paid executives after being awarded stock worth $199 million.
Google granted 273,328 Class C shares to Pichai on Feb. 3, according to a regulatory filing. In order to fully cash out, Pichai will need to remain a Google employee through 2019.
Tim Cook was given a similarly generous package valued at $378 million when he became Apple's CEO. But the value of the award has risen along with Apple's share price. According to Equilar, the highest-paid CEO of 2014 was David Zaslav of Discovery Communications, who brought home $156.1 million.
Related: Who is Sundar Pichai?
Pichai was elevated to CEO of Google in August. In a massive corporate restructuring, Google became a subsidiary of Alphabet (GOOGL), a new company run by Google co-founders Larry Page and Sergey Brin.
Pichai got his start at Google in 2004, building the now defunct Google toolbar. The toolbar allowed Internet Explorer and Firefox customers to make Google their default search engine. Then he took over Chrome before being named Google's product chief.