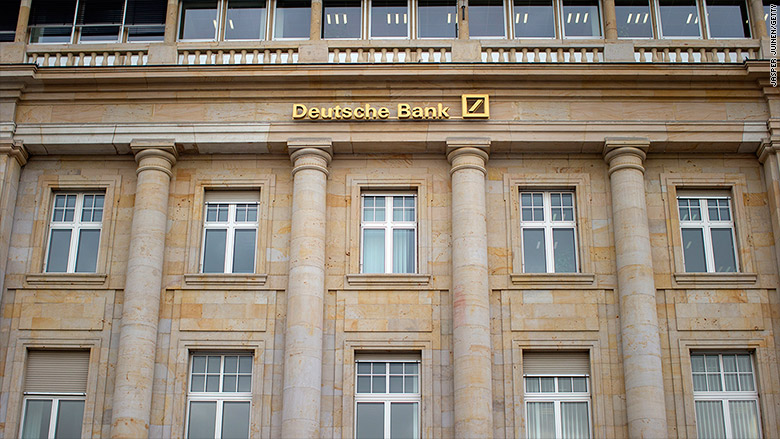 Twice in 24 hours
Deutsche Bank

(DB) has been forced to go public about the health of its finances in a bid to reassure panicked investors.

Co-CEO John Cryan wrote a letter to employees on Tuesday describing the bank as "absolutely rock solid." The letter was subsequently published by the bank.

Deutsche shares fell nearly 10% on Monday as part of a broader rout in banking stocks as rumors flew around that Germany's biggest bank may have trouble paying interest on some debt due in April.

That forced the bank to issue a statement Monday "against a backdrop of volatile markets" to say it had more than enough cash to service its debt through 2017. "Our capital and risk position remains strong," finance chief Marcus Schenck wrote.

Related: Forget oil stocks. Banks are killing your portfolio

Deutsche shares fell again on Tuesday, dropping more than 4% and extending their losses over the past 12 months to nearly 50%.

Cryan was brought into the venerable bank last year and immediately promised a level of transparency not often seen at German firms.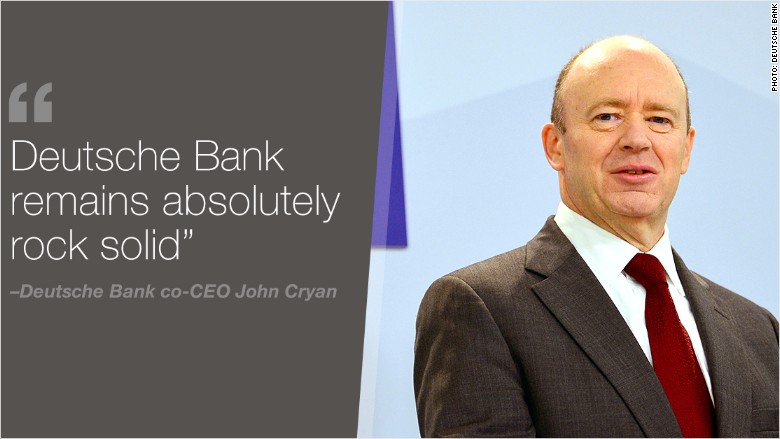 Like many banks, Deutsche has been hit with fines and penalties related to market manipulation. It agreed last April to pay $2.5 billion to settle charges it conspired to manipulate global interest rate benchmarks.
Cryan moved fast to announce job cuts as he sells off businesses and refocuses the bank, which posted a loss of 6.8 billion euros ($7.6 billion) in 2015.
Related: Deutsche Bank CEO: A bonus won't make me work any harder
On Tuesday, the British-born CEO said he was taking a personal interest in resolving all outstanding legal issues, but that more is to come.
"We will almost certainly have to add to our legal provisions this year," Cryan said, adding this was already factored into the bank's financial plan for 2016.