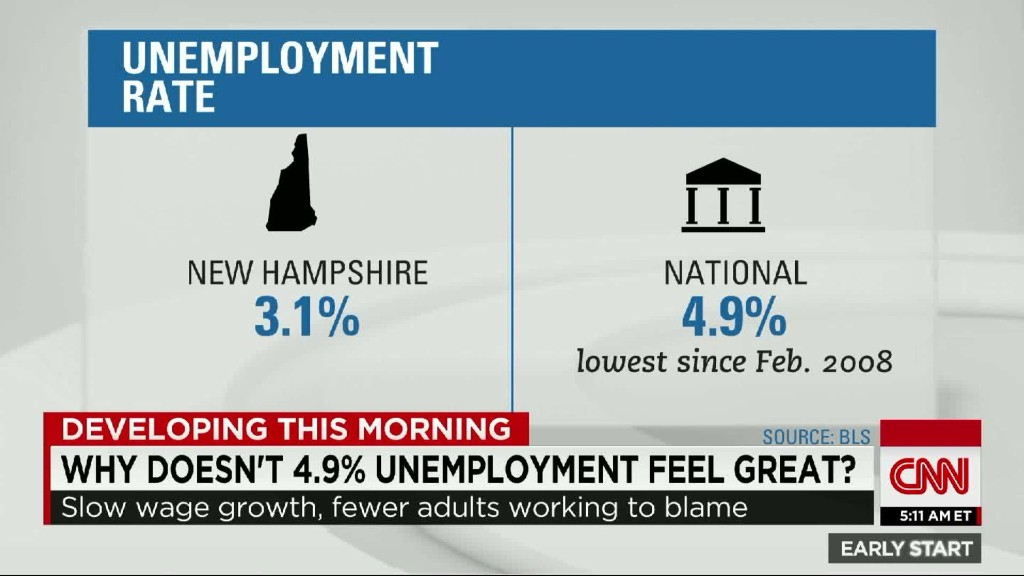 America might have too many job openings.
There were 5.6 million job openings in December, just shy of the all-time record of about 5.7 million set in July, according to Labor Department data published Tuesday.
Good news: American companies are hiring, despite all the concern surrounding the U.S. economy. The number of job openings now is almost three times the 2.1 million during July 2009, just after the recession ended that June.
Bad news: The number of job openings could be a reflection of companies not finding the right candidates. Many Americans don't have the skills that those available jobs require. It's called the job skills gap, and it has become a serious problem in the U.S.
Companies can lose hundreds of dollars in profits from vacant jobs, research shows. Those lost profits add up and ultimately the job skills gap can restrain U.S. economic growth, which is already sluggish.
Unskilled workers, elevated expectations from employers and a dwindling number of job-training programs are the key reasons behind the job skills gap, according to research by outplacement firm Challenger Gray & Christmas.
Related: The $100k job: be an apprentice
Experts argue that some students who go to 4-year colleges are better suited for a vocational career. And as the number of students going to college has increased to 20 million today from 15 million in 2000, the number of apprentices has dwindled, down by half between 2002 and last year, government statistics show.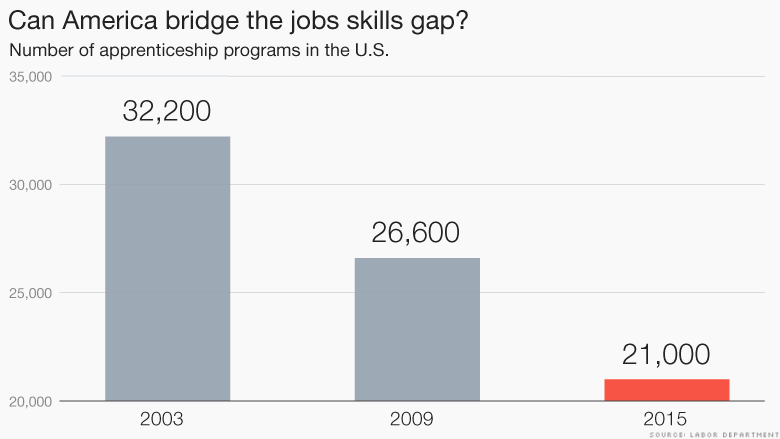 Many jobs require some skills but not a 4-year college degree. There's a lack of qualified workers available for vocational jobs like electricians and plumbers.
America needs nearly 50,000 more truck drivers than it has, according to the American Trucking Association. Experienced electricians and plumbers are also difficult to find.
But some employers arguably have outsized expectations for some jobs.
About 65% of job postings for secretaries who work for executives. But those require a college degree. Among current executive secretaries, only 19% have college degrees, according to Joseph Fuller, a Harvard Business School professor. That gap between reality and expectations has widened.
Related: Truck drivers wanted. Pay: $73,000
During the recession, employers had their pick of employees: there were few job openings and lots of available workers. They could raise the bar and demand more qualifications for employees.
The tables have mostly turned now: there's plenty of jobs but a shrinking number of workers. Unemployment fell to 4.9% in January, the lowest rate in 8 years. Many economists consider such a low rate to be "full employment."
Because there's a smaller pool of workers for employers to choose from, employers are forced to raise wages to help retain their employees.
The Obama administration has been trying to fix this gap by increasing its investments in job training: last year it set aside $175 million for apprenticeship programs, a record amount.
America lost 11,000 apprenticeship programs between 2002 and last year, according to Labor Department figures. There were just under 21,000 programs in the country last year. Those who run apprenticeship programs cite the declining influence of labor unions -- a major supporter of apprenticeships -- as one reason why programs have shut down.
Unemployed American may want to give apprenticeships strong consideration. Some programs, such as those for plumbers, lead to jobs that pay over $100,000 a year.