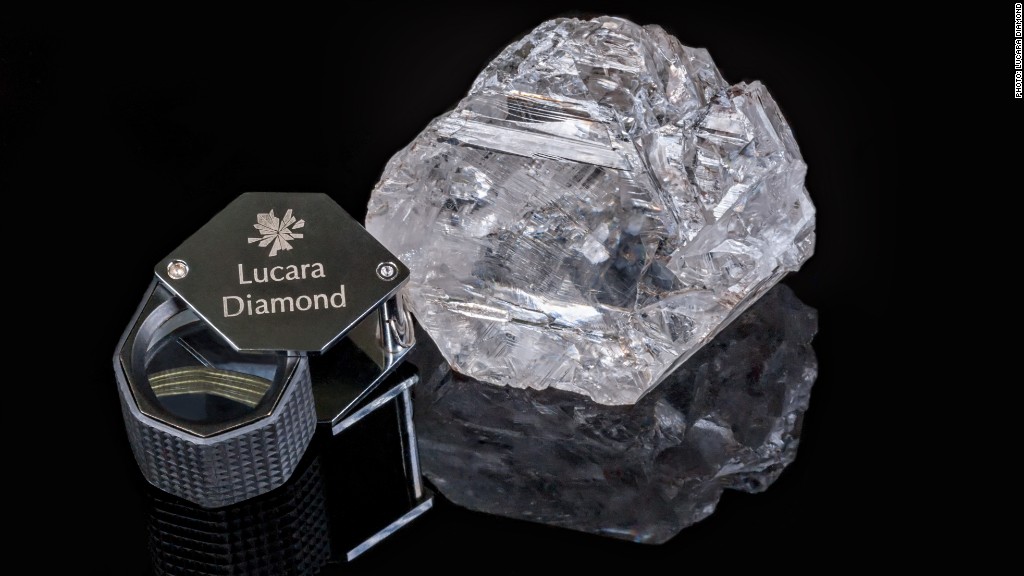 The world's second biggest diamond has a new name: "Lesedi La Rona."
It means "Our Light" in Setswana, the national language of Botswana, the southern African nation where the 1,111 carat stone was found in November.
Lucara (LUCRF), the Canadian company that owns the diamond, called it the biggest diamond found in more than 100 years. The discovery sent the company's shares soaring.
Lucara ran a public competition to find a perfect name for the stone. It picked "Lesedi La Rona" from more than 11,000 entries it received. It even hired Ernst & Young to ensure transparency of the naming process.
"Lesedi La Rona" symbolizes the pride and history of the people of Botswana," William Lamb, the CEO of Lucara said. "The outpouring of pride and patriotism shown by all the participants in the contest was incredible."
Related: Diamond of the century too big to value
The price of the diamond has not been set yet. That's because it is so large that it does not fit into conventional scanners used to evaluate a stone's potential worth.
Lamb said the company received one email offering $40 million, and some analysts have estimated it to be worth about $66 million.
The largest diamond was the 3,106 carat "Cullinan Diamond" found in South Africa in 1905. From that was cut the "First Star of Africa," which now adorns the Royal Scepter -- one of the British crown jewels now on display at the Tower of London.
-- Jim Boulden contributed to this report