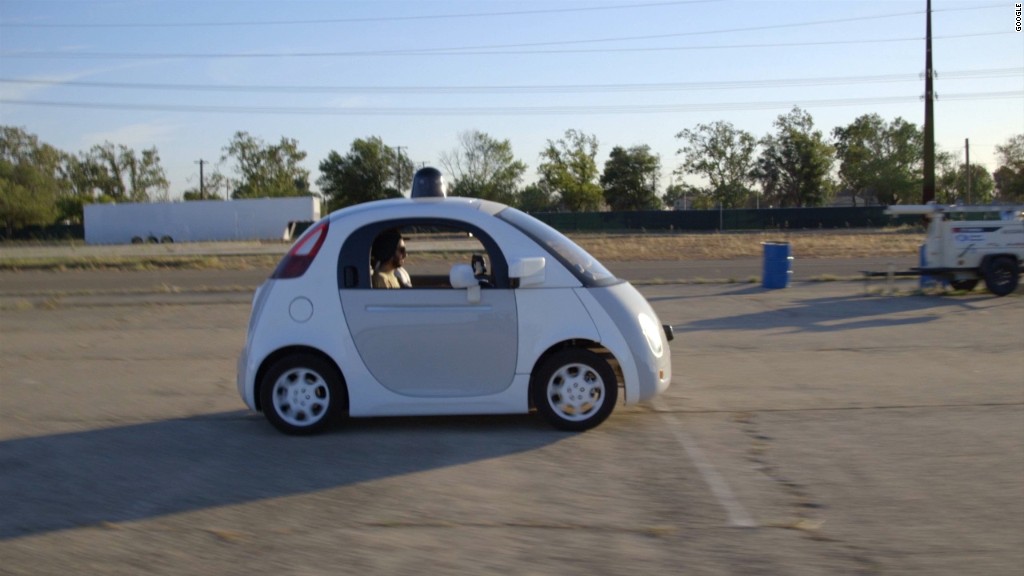 The U.S. just took one step closer to the concept of a true driverless car.
Until now, self-driving cars being road tested needed to have a steering wheel, a brake pedal and an accelerator as well as a driver who could use those features to take control of the car. But now safety regulators have given Google the go-ahead to build vehicles without any of these standard features. Of course, these cars are still years away from actually going on sale.
Google (GOOGL) has been telling safety regulators for years that its self-driving cars are safer than cars driven by humans, and that it would be better not to give any of a car's occupants the ability to take control.
In a letter posted online Tuesday, the National Highway Traffic Safety Administration gave its OK to the idea of a self-driving car without a steering wheel and so forth, that cannot be controlled by a human driver.
NHTSA said that the computer that controls a self-driving car will be considered the driver. "We agree with Google its self-driving car will not have a 'driver' in the traditional sense that vehicles have had drivers during the last more than one hundred years," said the NHTSA letter.
Related: Tesla fixes its auto-park feature after Consumer Reports raises safety concern
States can still pass laws that require cars to have steering wheels, brakes and a driver who can take control of the car. But NHTSA's decision clears an important regulatory hurdle for any company trying to develop self-driving cars, and could speed up their development, according to experts.
The legal issues surrounding self-driving cars are as big of a challenge as the technology, said Karl Brauer, senior analyst with Kelley Blue Book. "Questions of fault and liability will remain, but [this] could allow car companies, and tech companies, to quickly deploy autonomous vehicles."
Related: Americans are warming to self-driving cars
Google still doesn't have the approval it needs to put these cars on the road, but NHTSA will now let Google try to build a car that operates without human control and also meets federal safety rules.
Related: Self-driving car starts cross-country trip but stops for lunch at In-N-Out Burger
The agency said there may be need to be changes to regulations and testing procedures before final approval can be granted.