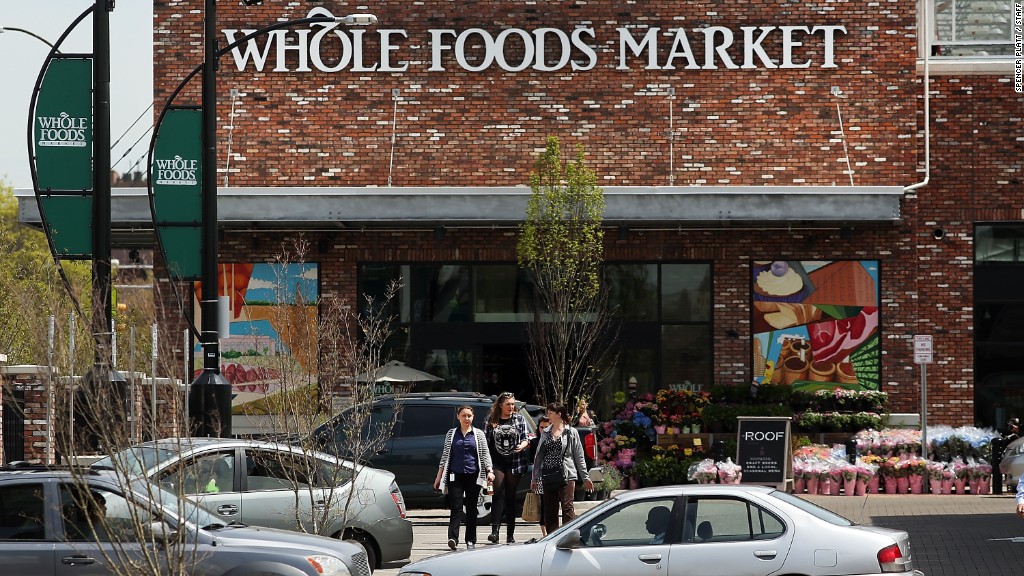 There has been a whole lotta shakin' goin' on at Whole Foods lately. And not in a good way.
Investors have shunned the stock ... and shoppers don't seem to be making as many trips to the organic grocery chain either.
But the worst may be over.
Whole Foods reported results for the last three months of 2015 -- the company's fiscal first quarter -- after the closing bell on Wednesday that topped gloomy forecasts.
The company also raised its earnings outlook for the full year.
"We believe we will deliver strong returns to shareholders over the long term as we improve our price perception, better communicate our higher quality standards and differentiation, and continue to fundamentally evolve our business," said Whole Foods co-CEO Walter Robb in the earnings release.
The stock didn't react much in after hours trading.
But shares of Whole Foods (WFM) are down 45% over the past 12 months. The company has found it difficult to shake off that Whole Paycheck reputation -- the perception that its products are way overpriced.
Related: Whole Foods shoppers say its food is not worth the high prices
Whole Foods no longer has the natural market to itself. It faces tough competition from much bigger retailers such as Walmart (WMT), Target (TGT), Costco (COST) and supermarket chain Kroger (KR) as well as organic rivals like Trader Joe's, Sprouts (SFM) and Fresh Market (TFM).
Making matters worse, the company's image was damaged last year following a slew of negative publicity.
Whole Foods was accused of overcharging customers for prepackaged items in New York City. The company eventually apologized and settled with regulators in the Big Apple. But sales took a big hit as a result of the allegations.
Related: Angry Whole Foods pays $500K to settle NYC price probe
It didn't help that Whole Foods had to deal with all this negative baggage (paper not plastic please!) last year.
A listeria scare: Whole Foods recalled blue cheese and various salad bar items in two separate incidents last October.
A cheap labor scandal: Whole Foods decided to stop selling products made from a supplier that used inmate workers after an activist pointed out how poorly the prisoners were being paid.
Asparagus water: An employee at a Whole Foods store near L.A. mistakenly put 3 sticks of asparagus in 16-ounce bottles of water ... and slapped a $5.99 price tag on them. HBO's John Oliver had a field day with this. (CNN and HBO are corporate cousins.)
So investors are hoping that Whole Foods can put all this aside them. It needs to be known again as the place to go for quality boneless pork butt ... and not as the butt of jokes from late night comedians.
Same-store sales growth
First quarter of 2015: Up 4.5%
First quarter of 2016: Down 1.8%
Whole Foods must prove to Wall Street that it can convince customers to come back and spend more.
Same-store sales fell further than they did last quarter -- they were down 0.2% from July through September. It's not a good sign. Still, the drop was not as bad as the 2.1% decline Wall Street had forecast.
Analysts are expecting same-store sales to drop again in the second quarter ... albeit by a more modest 1.1%. But investors will want to know when Whole Foods expects same-store sales to start rising again.
The company said it hopes for improvement as the year progresses, but for now it thinks same-store sales for the year will be flat at best.
Overall revenue
First quarter of 2015: $4.67 billion
First quarter of 2016: $4.83 billion
Total sales climbed a little bit because Whole Foods has been opening new stores. It has 436 now compared to 408 at this time a year ago.
But sales have slowed dramatically. Whole Foods used to routinely post revenue growth in the double digits. Not any more. Whole Foods said Wednesday it expects sales to be up 3% to 5% this year.
The company might be able to rejuvenate its top line with a new store format called 365 by Whole Foods.
Related: Is Whole Foods on the shopping block?
Whole Foods is making a gamble on smaller stores in urban areas with cheaper products. It's an attempt to get younger customers who may avoid Whole Foods because of the high prices.
The first 365 stores are expected to open later this year. But some analysts worry that Whole Foods may simply wind up competing with itself and steal sales from existing stores in big cities.
Profit
First quarter of 2015: $167 million, or 46 cents per share
First quarter of 2016: $157 million, or 46 cents per share
It's never encouraging to see profits go down. But Wall Street appears to be forgiving the company since earnings per share actually beat forecasts.
Whole Foods missed earnings estimates in the previous two quarters. A third time would not have been a charm for the company.