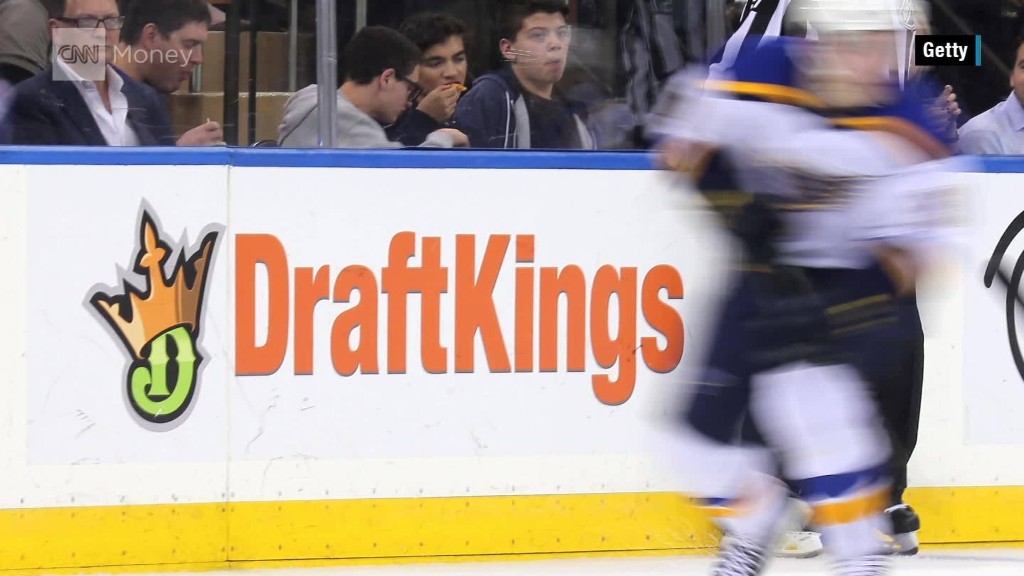 The recent problems at DraftKings have reduced the value of the company by about 60%, according to media conglomerate Fox, one of the companies that invested in the daily fantasy sports site.
In a filing Tuesday Fox (FOX) disclosed that it was reducing the value of its $160 million investment in DraftKings by $95 million.
The filing said the new valuation is based on recent transactions involving DraftKings, which had convinced Fox that "a portion of its investment in DraftKings was impaired."
DraftKings did not have an immediate comment on the action by Fox.
Other investors have not reduced the value of their investments in DraftKings or FanDuel.
But Disney's (DIS) agreement to have DraftKings be the exclusive daily fantasy sports offering across ESPN's various platforms is no longer exclusive, a source familiar with that deal confirmed Wednesday. That deal was announced in June, near the time of the investments by the media companies.
It's been a difficult six months for DraftKings and rival FanDuel.
Last summer each site raised about $300 million from investors including top media companies, sports leagues such as the NBA and MLB, and owners of some sports teams to help the fuel their explosive growth. Those investments last summer put the values of each company above $1 billion. (Time Warner (TWX), owner of CNN, invested in FanDuel. )
Related: Super Bowl scores big for Nevada casinos
Many of those dollars went into advertising that flooded airwaves, especially during broadcasts of sporting events. Fox's filing also disclosed that DraftKings last summer had committed to spend a minimum of $250 million on ads on Fox networks through the end of 2017.
But since then they have been under attack from several state attorneys general who argue daily fantasy sports violate their states' gambling laws.
A scandal in which a DraftKings employee won $350,000 playing a game on FanDuel didn't help the companies' causes.
While the companies announced an investigation had cleared the employee of any wrongdoing, the backlash caused the sites to change their policies to prohibit their employees from playing any fantasy games for money.