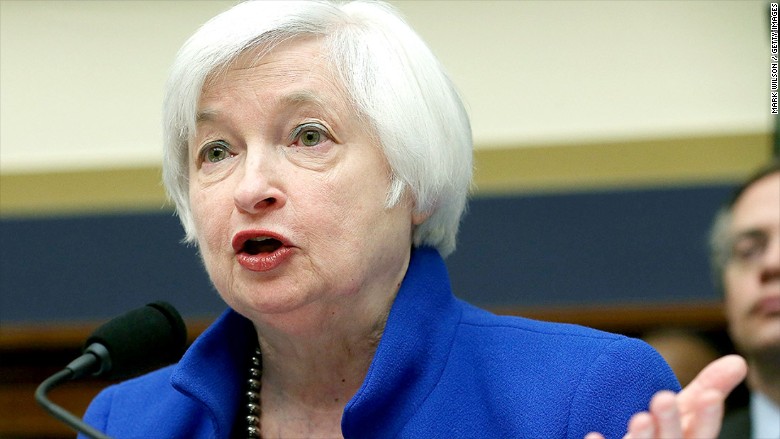 Federal Reserve Chair Janet Yellen and Congress don't see eye to eye.
Yellen testified for over three hours before the House Financial Services Committee Wednesday and lawmakers heavily criticized the Fed's monetary policy, the state of the economy and even high rates of black unemployment.
Yellen returns to Capitol Hill Thursday to testify before the Senate.
Here's a few key takeaways from Yellen's first day on Capitol Hill.
1. U.S. economy hurt by strong dollar, sinking stocks
Yellen's top concerns right now are the strength of the U.S. dollar, the volatility in U.S. stocks and rising borrowing costs.
The dollar hurts U.S. companies that sell products abroad because it makes those goods more expensive for foreign buyers and that is hurting American manufacturers. U.S. stock markets have gotten off to a terrible start in 2016 -- the broad S&P 500 is down 8.5%.
And jitters in the risky, junk bond market have been rising, especially after one junk bond fund, the Third Avenue Focused Credit Fund, collapsed in December. Yellen also said the Fed's latest survey of banks showed that rates are going up and commercial lending standards are tightening.
If those trends continue, they could hurt U.S. economic growth, Yellen said. That would be a problem considering growth was an anemic 0.7% at the end of last year.
Related: Yellen: market turmoil and dollar could hurt economy
2. Does the Fed care about blacks?
Yellen is usually criticized for monetary policy. But on Wednesday, several House members wanted to know what the Fed was doing for the black community.
Black unemployment is 8.8%, far higher than the white unemployment rate of 4.3% or national average of 4.9%.
"Nobody is suffering from unemployment like the African American community," pointed out David Scott, a Democratic Congressman from Georgia. He implored Yellen to put black unemployment "on the front burner" of the Fed's priorities.
Yellen agreed the black unemployment rate is too high but said it is not a specific metric the Fed's committee discusses when it considers raising interest rates.
The Fed also has never had a black president at one of its regional banks. When Scott pressed Yellen on that, she didn't defend the Fed.
"I regret that there hasn't been an appointment of an African American president," Yellen said.
Related: Market now predicts zero Fed rate hikes in 2016
3. China is big concern
Yellen didn't mince words about China: its economy is slowing down and uncertainty is rising about how much China will devalue its currency, the yuan.
A weak yuan has major implications for global trade. Yellen firmly blames the uncertainty of China's currency for the rise in global growth fears.
"This uncertainty led to increased volatility in global financial markets and, against the background of persistent weakness abroad, exacerbated concerns about the outlook for global growth," Yellen said.
4. The Fed probably won't use negative interest rates
Japan's central bank started using negative interest rates two weeks ago.
That move had many in Congress wondering two things: will the Fed consider using negative rates if the U.S. economy worsens? And, does the Fed even have the legal authority to use negative interest rates?
Yellen said she wasn't aware of any law that prevented the Fed from using negative rates.
Yellen did say that the Fed once considered using negative rates in 2010, when the economy was just beginning to recover from recession. The idea never got serious traction, she said.
Yellen said it was unlikely the Fed would cut rates anytime soon from its current 0.25%.
"I don't think it's going to be necessary to cut rates," she said.
Related: Global central banks are running 'out of ammo'
Near the end of the grueling hearing, Congressman Ed Perlmutter of Colorado gave Yellen a moment to smile.
"How 'bout them Broncos?!" he proclaimed, referring to the Super Bowl champions.
"Way to go!" Yellen replied.