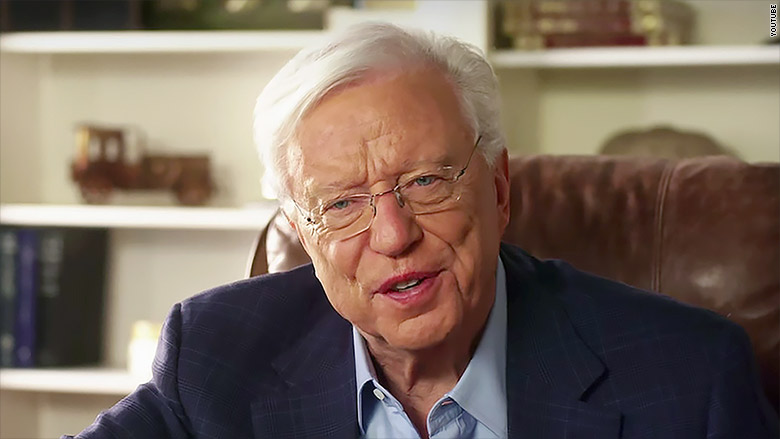 It hasn't all been a honeymoon, but after 16 years in the business, Dr. Neil Clark Warren is still committed to helping people find love.
Warren is the 81-year-old cofounder and current CEO of online dating site eHarmony.
The site, which bills itself as a place for finding deep love that leads to marriage, first launched in August 2000. Warren, who retired in 2007, came out of retirement in 2012 to help "turn around" the company.
Earlier this week, I sat down with Warren -- his wife, Marylyn, of 57 years by his side -- to talk about the rough patches, the competition, and of course, the highlights.
Gay marriage
In 2005, the company was sued for discrimination of same-sex couples. To settle a lawsuit, eHarmony in 2009 launched Compatible Partners, a site for gay and lesbian singles.
When it did so, Warren says 350,000 of its members fled eHarmony out of principle. The company originally started as a Christian dating site and Warren himself is an evangelical.
"We've suffered from the contentiousness of that topic," Warren said, who added that it wasn't about being anti-gay.
"We didn't want to pretend to be experts on gay and lesbian couples," said Warren. "We're not anti-gay at all ...It's a different match."
Warren says the company -- which uses its patented algorithm to connect people based on 29 dimensions of compatibility -- is now seeing success in matching up gay and lesbian singles on Compatible Partners.
Related: College students are Tindering for 'friends'
"We've had quite a number of same-sex marriages," he said.
The company says it has matched 2 million couples that have led to marriages. And according to Warren, they're beating the marriage odds.
A new era for Internet dating
Warren said that a survey of 20,000 of its married couples found that just 3.9% have gotten divorced (compared to 6.9% of U.S. marriages.)
EHarmony has roughly 770,000 active users who are paying anywhere from $9.95 to $59.95 per month depending on the length of the plan. (That doesn't include numbers of its Compatible Partners service.)
But Warren said they're continually trying to improve: "Our job is becoming harder."
That's not because there is more competition. In fact, Warren doesn't see the onslaught of dating apps as threats to his business. "We don't discourage people from Tinder," he said, adding that apps like Tinder are primarily used for dating and hooking up -- not marriage.
Related: Blizzard sent singles to dating apps
Rather, connecting people is becoming harder because "people are becoming more complex."
That's a result of our increasingly wired world, said Warren, who worked as a clinical psychologist for 35 years before starting eHarmony with his son-in-law.
"The more complex you are, the harder it is to find someone with broad-based compatibility," he said. "Oh my gosh, we have a team of roughly 20 people working every day to improve our matching algorithm."
(They're also working on a career site to apply their secret sauce to the job search).
Warren said one of the biggest things he tells people is not to hurry: It could take as many as five years to find "that person" using his site.
But it'll be worth it: "We encourage people not to settle."