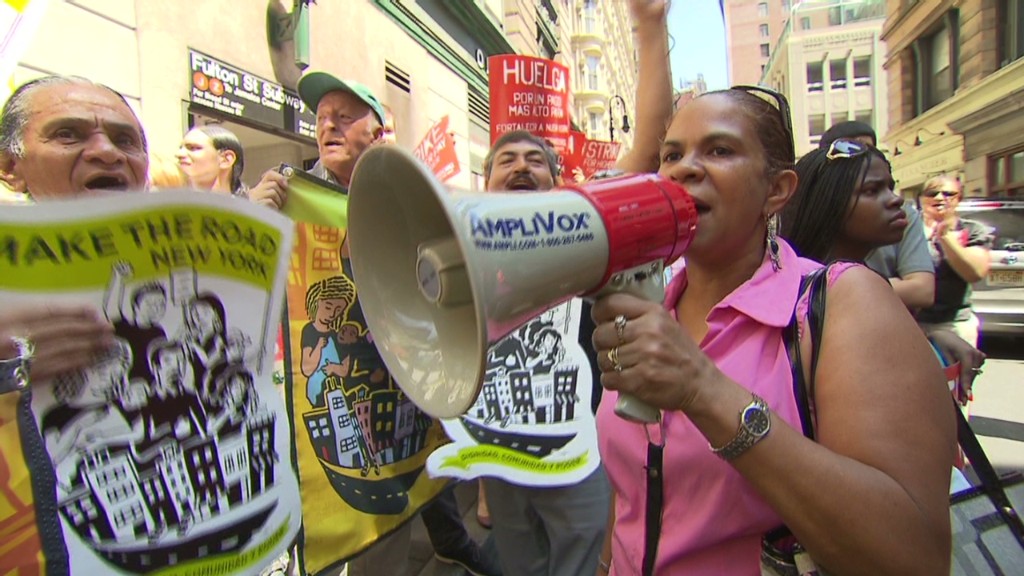 Fast food and other low-paid workers are planning to protest outside Saturday's Republican presidential debate in Greenville, South Carolina.
The protesters at the "Fight for $15" rally will be demanding a $15 an hour minimum wage and the right to unionize.
At 1pm the protest will kick off with a walkout and will culminate in a 7 pm rally outside the debate. It comes just one week before the state's primary.
Many of the workers participating in the rally will be voting for the first time in the 2016 presidential election, according to the organizers.
Related: Walmart found to have fired striking workers unlawfully
Saturday's protest is the second Fight for $15 rally this week. On Thursday, workers took to the streets outside the Democratic debate in Milwaukee.
The walk-outs and protests will be held wherever candidates go during the primaries as part of the group's plan to put pressure on candidates of both parties.
None of the Republican presidential candidates have endorsed a $15 an hour minimum wage.
In contrast, both Democratic candidates support raising it -- Bernie Sanders to $15 an hour and Hillary Clinton to $12 an hour.
The current national minimum wage is $7.25 an hour.
Related: Port workers in New York and New Jersey go on strike
According to the protest organizers, 53% of the workers in South Carolina are paid under $15 an hour.
In all, more than 1,000 people are expected to turn out for the protest. Fast-food cashiers and cooks from restaurants such as McDonald's (MCD), Taco Bell and Wendy's (WEN) will be joined by home and child care workers like Tamariah Meritt.
"No one works in child care for big bucks, but when I'm paid $8.00 an hour, I can't afford essentials for myself such as rent," Meritt said in a statement. "[T]oo many of us can't afford the basics and too many parents can't afford quality care. Politicians have the power to change that."
Richard Baxter, a Subway worker, makes $8.50 an hour. He said he plans to vote for the first time this year.
"Every election I've walked right past the ballot box -- not into it -- because I believed my vote wasn't worth anything," Baxter said in a statement. "But the Fight for $15 has changed that. Across the country, workers are following presidential candidates everywhere they go to show we're serious about supporting those who fight for $15 and union rights."