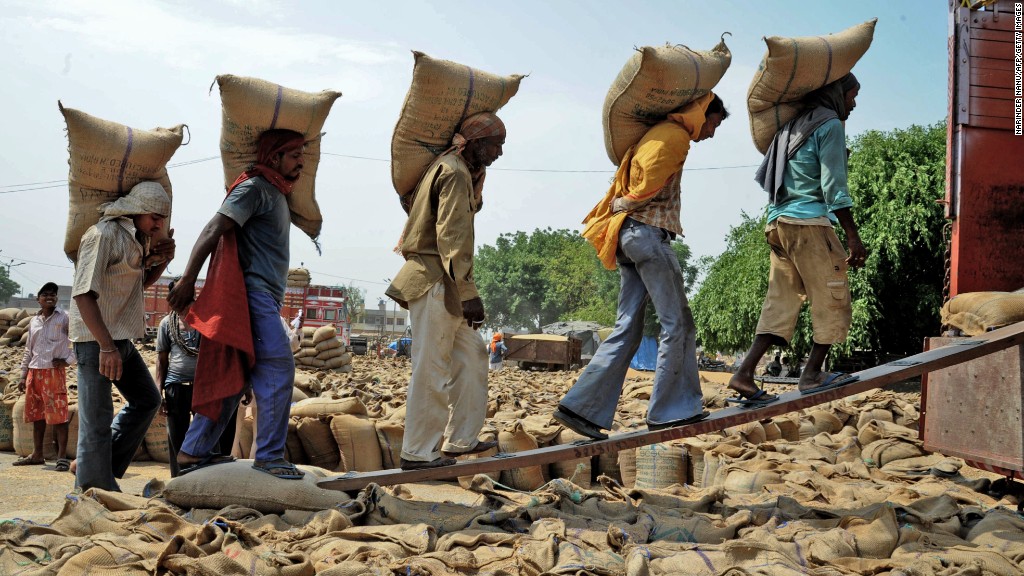 The Bombay Stock Exchange sits in the commercial heart of this throbbing city, and crowds of people throng the streets around it.
You don't see the harried, earnest look of the bankers scurrying along Wall Street, or the besuited London financial around the City.
Far from it. Outside the BSE there is an altogether different dynamic. (And so you know, though the city is now named Mumbai, the exchange is officially the BSE, with a B for Bombay.)
Today's BSE is a fully electronic exchange, having got rid of the trading floor in 1995. Still that doesn't stop the independent traders from hanging around Dalal Street, outside the exchange's tower.
On Friday afternoon, I stood outside with them, the end of a miserable trading week -- one of the worst in years.
The Indian stock market, like many others, is now officially in a bear market, down 23% from its high just over a year ago.
The traders can't figure it out.
India has now bested China as the world's fastest growing major economy — 7.3% for India, versus just under 7% for China.
The Indians had always claimed to have the more vibrant economy, more energetic, and more transparent. And now it's number 1, along with lower inflation, lower unemployment, and higher government investment.
With such a rosy picture, what has gone wrong with the stock market?
The traders stand around, tell me about the unfairness of the situation, and how the Indian market doesn't deserve to tank like the others. Companies are making money, the economy is robust. The market is not reflecting fundamentals, I am told, again and again.
But then there is a sigh, a shake of the head and reality sinks in. The truth is that India cannot buck the global slowdown and market turbulence.
There is also the political dimension. The traders I met all believed the current stalemate on key policies like the new Goods and Services Tax is extremely harmful. When I asked if they still supported Prime Minister Modi, even those who said they didn't vote for him agreed he should be allowed to get on with the job. The potential for political paralysis is real and they felt it was making a bad situation worse in the market.
CNN Asia Business Forum: Pollution is scaring away top corporate recruits
In most financial cities, this is usually the end of the conversation and everyone trudges off more miserable than when they began.
But not at the Bombay Stock Exchange. Oh no. Now the natural Indian ebullience for a trade and a deal kicks back in.
Within minutes I am being exhorted that this is a buying opportunity. The shares in top Indian companies are deeply discounted. India is the fastest growing economy with one of the youngest populations in the world, I am reminded. The traders are agreed: Don't be a fool and miss out!