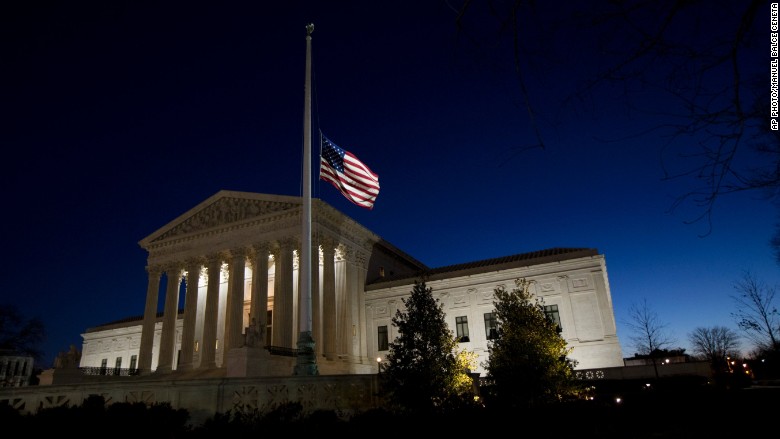 The death of Supreme Court Justice Antonin Scalia has jarred Washington. It has also left the court with one fewer member as it works through dozens of cases on its plate.
Some of the most important cases touch on hot-button social and political issues: abortion, immigration, Obamacare and religion, and voting rights.
Related: What now for the biggest cases?
But the pending docket, set to be wrapped up by the end of June, includes a number of cases of interest to businesses, workers and investors.
Puerto Rico's financial crisis
Can Puerto Rico enact laws that allow it to restructure its debt?
Puerto Rico must shed some of the tens of billions of dollars it owes investors and other creditors. But federal bankruptcy court is off limits.
Puerto Rico v. Franklin California Tax-Free Trust asks whether Puerto Rico had the right to pass a law that would allow its public utilities to restructure their debt. The Supreme Court is set to hear arguments on March 22.
School teachers and unions
Can public sector unions charge non-members fees for collective bargaining?
One of the issues in Friedrichs v. California Teachers Association involves public school teachers who are not in the union but still had to pay dues to cover the costs of collective bargaining.
The case was brought by teachers who say that being forced, by state law, to pay dues violates their First Amendment rights. The justices heard arguments in January.
First Amendment and government workers
Does the First Amendment protect a government worker who was demoted because his boss thought he supported a political candidate?
Heffernan v. City of Paterson was brought by a police officer in Paterson, New Jersey, who was demoted when his supervisor believed -- incorrectly -- that he was campaigning on behalf of a mayoral candidate.
The case presents the kind of issue lawyers love: The officer was demoted not for his actual political views, but because of a perception about his views. Does the First Amendment still protect the officer? The Supreme Court heard arguments in January.
Class action against Microsoft ...
Can Microsoft beat back an attempted class action suit that claims the Xbox 360 console scratched video game discs?
Corporate America hates class actions because a group of plaintiffs usually has more power to win a big settlement than does a single plaintiff. A corporate defendant can often effectively win a case by convincing a judge to not "certify" it as a class action.
The question in Microsoft Corp. v. Baker involves whether the plaintiffs could appeal a ruling that denied them class action certification. The justices took the Microsoft case last month; arguments have not been scheduled.
... And another class action case
Can plaintiffs use statistical models based on a sample of plaintiffs to establish that a bigger group of people has been harmed?
This case touches on one of the biggest clashes over class actions: Do they allow people with similar legal complaints to get the justice they deserve, or do they make it too easy for plaintiffs to mount a case?
The case before the Supreme Court is Tyson Foods v. Bouaphakeo. Hourly workers at a Tyson Foods meat processing plant said they were not adequately paid for the time they spent walking to their work stations and changing into protective gear.
The plaintiffs used some actual time sheets and "representative" evidence as proof of their financial damages. Tyson argued there were too many differences among the workers to constitute a true class. The Supreme Court heard arguments in November.
Legal 'standing' to bring lawsuits
How much 'harm' must a plaintiff show to bring a lawsuit in the first place?
It's a basic rule that you can't get through the courthouse door if you can't show you have been harmed in a concrete way. That's one of the factors that gives someone "standing" to bring a suit in federal court.
In Spokeo Inc. v. Robins, the Supreme Court is mulling whether a "bare" violation of a federal law can be enough to let someone sue -- even without showing tangible harm.
The case was brought by a man who says a credit agency was reporting inaccurate information about him, in violation of the Fair Credit Reporting Act. It was argued before the Supreme Court in November.
Related: Washington digs in for a Supreme Court fight
--CNN's Ariane de Vogue contributed to this report.