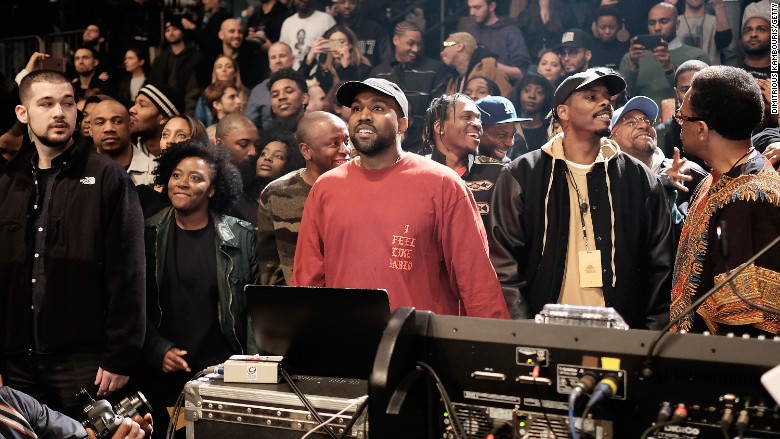 It appears that Kanye West's new album won't be hitting iTunes anytime soon.
In a stream of consciousness Twitter rant, West said that his latest album, "The Life of Pablo," would never be on Apple.
"My album will never never never be on Apple. And it will never be for sale," West tweeted Monday night. "You can only get it on Tidal."
His Twitter outburst came hours before the broadcast of the Grammys.
West's latest album was released online on Saturday night exclusively on the music streaming service Tidal, which is owned by West's friend and fellow rapper Jay Z.
Related: Jay Z's TIDAL music service to be owned by artists
West added on Twitter Monday, "please to all my friend fans and music lovers. Sign up to Tidal now."
This is the second time in recent days where the music artist pushed for the streaming site.
Over the weekend, West tweeted that he "decided not to sell my album for another week" and to please subscribe to Tidal.
This plea seemingly worked with the music service's app shooting to the top of Apple's app store charts.
West is the latest musician to keep his work off Apple and other streaming music services. Adele's album "25" is not on Apple Music, the company's streaming music service, and Taylor Swift briefly held back her hit album "1989," but reached an agreement with the tech giant.
Related: Kanye West drops new album, says he's $53 million in debt
West also tweeted on Monday night about The New York Times, Rolling Stone and Pitchfork and "any other white publication" to "please do not comment on black music anymore."
"I love love love white people but you don't understand what it means to be the great grandson of ex slaves and make it this far," West added.
Apple Music did not immediately respond to a request for comment on this story.