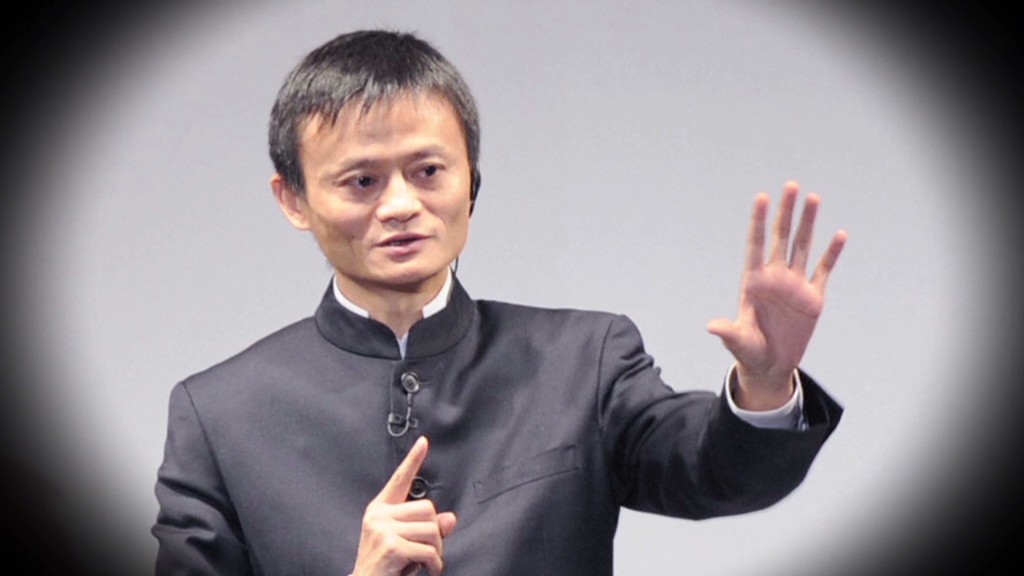 Isn't the daily deals market supposed to be dying? Someone apparently forgot to tell Alibaba chairman Jack Ma.
Alibaba (BABA) disclosed in an SEC filing late Friday that it acquired nearly 33 million shares of Groupon in the fourth quarter. That works out to about a 5.6% stake. This makes Alibaba the fourth-largest owner of Groupon.
Shares of Groupon (GRPN) soared more than 40% in midday trading. That follows a nearly 30% jump on Friday after Groupon reported a surprise profit and sales that topped Wall Street's forecasts.
The company's latest results -- combined with the endorsement from Alibaba -- is welcome news for Groupon.
The stock plunged more than 60% last year. Even after its recent pop, Groupon's market value is just $2.3 billion -- well below the $6 billion buyout offer from Google (GOOGL) in 2010 that Groupon famously (infamously?) rejected.
The daily deals business didn't turn out to be a new revolution in online retailing after all. Groupon announced in September that it was cutting 1,100 jobs -- mostly from its international operations.
Groupon and other rivals have been suffering because local merchants now have many other ways to market themselves beyond huge discounts on daily deals sites.
Amazon (AMZN) shut down its daily deals site Amazon Local late last year. Another daily deals site, LivingSocial, laid off about 200 people, or 20% of its staff in 2015.
Related: Amazon kills off its Local daily deals site
Amazon was once an investor in LivingSocial. But Amazon took a $169 million writedown on its LivingSocial stake in 2012.
And earlier this year, retailer Hudson's Bay (HBAYF) -- which owns Saks and Lord & Taylor -- agreed to buy luxury daily deals site Gilt Groupe for just $250 million. Gilt was once worth as much as $1 billion.
But Groupon has started to shift its focus away from those daily e-mails to other areas of e-commerce, such as travel. It also has Groupon Goods and Groupon Stores -- more traditional online shopping sites that compete with Amazon and eBay (EBAY).
Groupon's latest earnings report suggests that the turnaround strategy is starting to work. And perhaps that is a reason why Alibaba decided to invest in the company.
Still, it's worth noting that Groupon's stock is a favorite target of short sellers. That may be one reason why the company's stock is moving violently higher on the earnings and Alibaba news.
Shorts may be rushing to buy back the shares they borrowed to cover their positions in order to minimize potential losses.
It's also difficult, if not impossible, to truly understand what the enigmatic Ma and Alibaba are up to.
Related: The Groupon and Yelp of China just merged
The company is still struggling to convince investors that it can deal with the plague of counterfeit goods on its Taobao and Tmall sites. The stock is down 20% this year -- despite reporting solid sales growth, particularly from its mobile apps.
Alibaba may be further confusing the market with an eclectic mix of investments.
It has stakes in startups Snapchat and Lyft as well as publicly traded Chinese Internet companies like dating site Momo (MOMO) and Weibo (WB) -- the blogging service dubbed China's Twitter.
The company also recently acquired the China South Morning Post newspaper. It's in the process of buying the rest of Youku Tudou (YOKU), an online video site often referred to as China's YouTube.
Related: 3 things to know about Alibaba's move into big media
And it invested $4.6 billion last year for a stake in Chinese electronics retailer Suning -- a company with actual brick and mortar stores.
So how does Groupon fit as an ingredient in this e-commerce and social media stew? Who knows?
Alibaba had nothing to say about its Groupon investment beyond its filing while Groupon was not immediately available for comment.