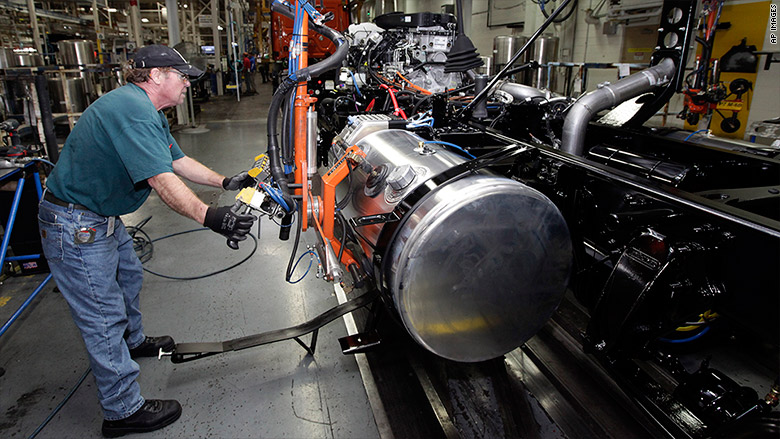 A sharp drop in orders for new semi-tractor trucks has forced some manufacturers to cut jobs, another sign of the slowing U.S. economy.
Experts say the economic slowdown means trucking companies are hitting the brakes when it comes to buying new vehicles. U.S. orders for the largest trucks fell 22% last year and were down 48% in January from a year ago.
The slowdown comes after 2014, when sales were near a record high. But that left the trucking companies with too many trucks on hand.
"Everyone expected the growth of 2014 to continue and unfortunately, it didn't," said Steve Tam vice president of ACT Research, which tracks the trucking industry. With so many trucks on hand and a slowing demand for freight shipping, many companies are taking a wait-and-see approach before buying more equipment, he explained.
Freightliner, a unit of German automaker Daimler (DDAIY), is the most recent truck maker to announce job cuts, announcing 1,250 layoffs at two plants in North Carolina on Monday.
Those layoffs come on top of 936 jobs that were slashed at one of those plants just last month. Freightliner attributed the layoffs to "a sustained reduction in orders."
Related: Truck drivers wanted - Pay $73,000
Other heavy-duty truck manufacturers have also cut staff recently, including Paccar (PCAR) and Volvo Trucks. Navistar (NAV) cut 1,400 jobs, or about 10% of its staff, in the fiscal year that ended in October, according to company filings. Truck engine maker Cummins (CMI) said it October it would layoff up to 2,000 workers due to the slowdown in demand.
The slowdown in U.S. manufacturing has hit demand for trucking, and new truck sales, particularly hard according to ACT.
Several trucking companies have confirmed they have halted new truck purchases and in some cases are trimming the size of their fleet. The size of truck fleets across the industry is likely to stay flat for at least the next year said to David Jackson, CEO of trucking company Knight Transportation (KNX), when speaking to analysts last month.