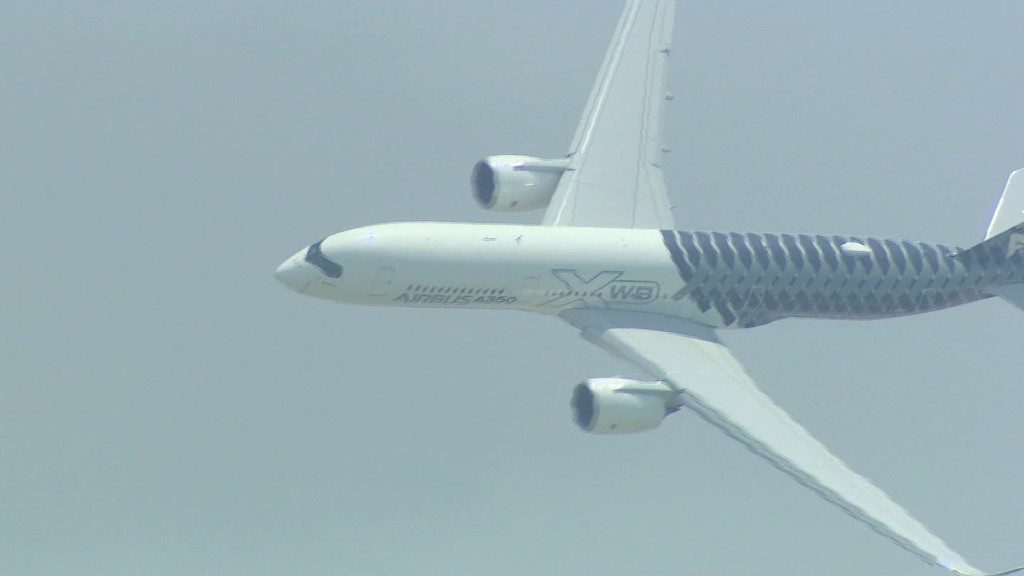 Airbus isn't giving up on its super jumbo yet.
Doubts have built up over the future of the A380 in recent years amid a dearth of new airlines willing to buy the world's biggest aircraft.
But recent deals with carriers in Iran and Japan brought an end to the giant plane's three-year wait for new customers. And Airbus (EADSF) CEO Fabrice Bregier says he's optimistic about the future.
"I believe that this aircraft will progressively find its way," he told CNNMoney on Wednesday at the Singapore Air Show, citing the A380's popularity with passengers and growth in the overall commercial plane market.
Airbus said in 2014 that it would face a decision on the super jumbo's future in the near to mid term. But Bregier said he wasn't aware of any discussions to potentially end production.
He admitted, though, that the market for the plane is "a bit smaller than what we expected" and that the conditions aren't yet right to introduce a new version with a more fuel efficient engine.
Related: Iran selling oil to France and buying 118 Airbus planes
The A380 took 15 years to develop at a cost of $25 billion. Last year was the first in which Airbus broke even on the cost of building each plane, not including the development costs, delivering 27 of the planes to customers, according to Bregier.
The CEO was upbeat about the company's overall order book, which he said hadn't been affected by recent market turmoil and worries about the health of the global economy.
In fact, the steep drop in fuel prices has made many airlines "extremely profitable," Bregier said.
"As they are very healthy, they are looking at investments for 2020 and beyond," he told CNNMoney.
But airlines are finding it harder to make money in Asia.
Related: Boeing tanks on poor outlook for new planes
Profit margins for carriers in the region are around $5 a passenger, the International Air Transport Association says. That's less than a quarter of the $21 a passenger that North American airlines are raking in.
Competition is particularly cutthroat among low-cost carriers in Southeast Asia, according to Bregier.
"But the growth is still there, so there will be winners which will continue to procure aircraft," he said.
Airbus and its American rival Boeing (BA)continue to carve up the global passenger aircraft market between them. But Bregier said he's keeping a wary eye on potential competitors emerging in Asia.
"The very serious one for us is Comac, with the weight of China strategically behind them," he said, referring to the Chinese manufacturer that rolled its first large passenger jet off the production line in November.