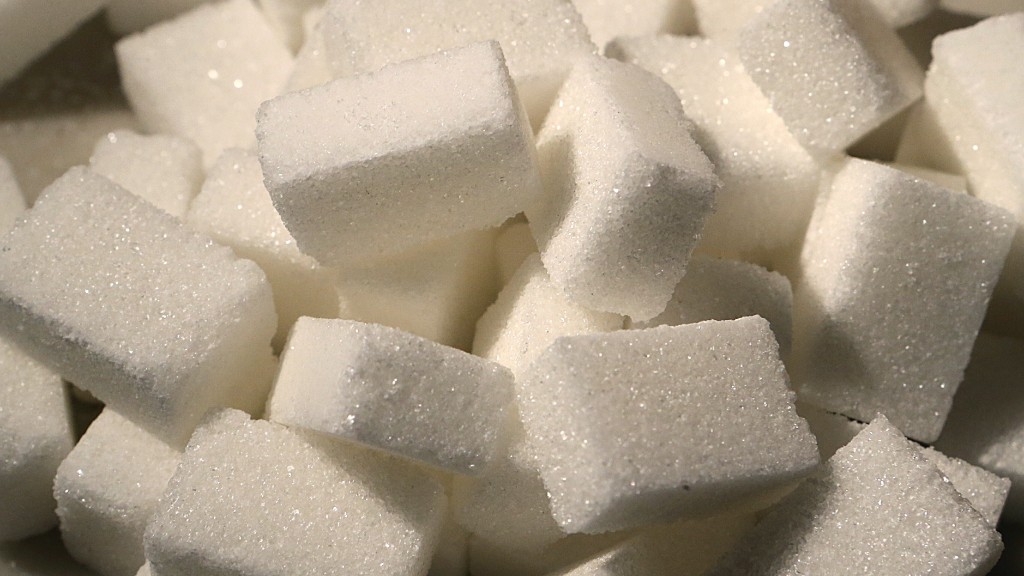 Warning: You might want to put that caramel latte down before reading this.
Flavored drinks served by the likes of Starbucks (SBUX) can contain up to 25 teaspoons of sugar per serving, according to a new report by a British campaign group Action on Sugar.
That's three times the amount of sugar in one can of Coke, and more than three times the maximum adult daily intake recommended by the American Heart Association.
The report said that 98% of hot flavored drinks sold at major coffee chains in the U.K. have excessive levels of sugars per serving, with 35% containing nine or more teaspoons of sugar -- the same amount as a can of Coca Cola.
The research focused on drinks sold in the U.K., but nutritional information published on the companies' website show that sugar levels are similar in the U.S. and elsewhere.
Action on Sugar describes itself as "a group of specialists concerned with sugar and its effects on health." Its advisers and staff include doctors, nutritionists and public health specialists. It analyzed 131 hot drinks, including flavored lattes, chai teas, mocha coffees and mulled fruit drinks. The survey touched on nine big coffee shops and food chains in Britain including Starbucks, Costa and Pret a Manger.
The group also campaigns against hidden sugars in everyday food, organizes "Sugar awareness week," and advises people on how to eat less sugar.
Related: Should there be a fat tax on soda and junk food?
The report said Starbucks' hot mulled fruit grape with chai, orange and cinnamon was the "worst offender," with 25 teaspoons of sugar.
Two other popular Starbucks choices -- vanilla latte and caramel macchiato -- contain more than eight teaspoons of sugar each, according to the company's U.S. website.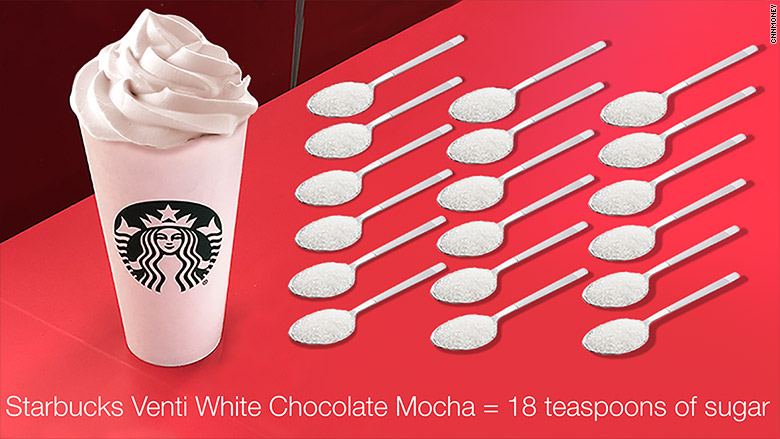 Starbucks said it has committed to reduce added sugar in its "indulgent drinks" by 25% by the end of 2020. "We also offer a wide variety of lighter options, sugar-free syrups and sugar-free natural sweetener and we display all nutritional information in-store and online," a Starbucks spokesperson said.
A medium Dunkin' Donuts (DNKN) vanilla chai has over 11 teaspoons of sugar, while a hot macchiato includes 7 teaspoons. KFC's mocha contains 15 teaspoons of sugar. A large mocha at McDonald's (MCD) has 11 teaspoons, and a chai latte massimo at the British chain Costa Coffee includes 20 teaspoons.
"These hot flavored drinks should be an occasional treat, not an 'everyday' drink. They are laden with an unbelievable amount (of) sugar and calories and are often accompanied by a high sugar and fat snack," said Kawther Hashem, a researcher for Action on Sugar.
Health campaigns against excessive sugar contents has been gaining momentum in recent years. The World Health Organization has recently suggested cutting the recommended sugar intake for adults in half, to about 25 grams, around 6 teaspoons, of sugar for a normal weight adult a day.