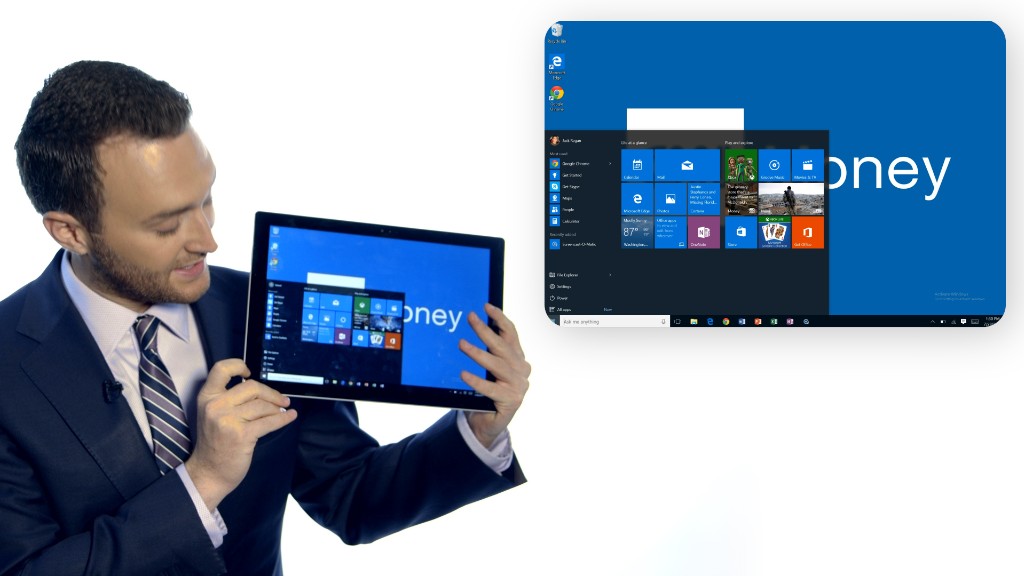 If your company hasn't yet upgraded to Windows 10, your IT department is quickly running out of excuses.
Microsoft (MSFT) announced Wednesday that it just scored its biggest Windows 10 customer yet. Secretary of Defense Ash Carter has ordered all 4 million of the Pentagon's PCs to be upgraded to Windows 10 within the next 12 months.
The Pentagon's announcement represents a huge psychological milestone for Microsoft. The U.S. Department of Defense is one of the largest, most cost-sensitive and complex agencies in the world.
"Microsoft can now go to its customers and say that if the Pentagon can upgrade all of its PCs to Windows 10 within a year, what's stopping your company from upgrading?" said Bob O'Donnell, Microsoft analyst at TECHnalysis Research.
It's not just the size of the Pentagon PC upgrade that makes the announcement significant, but the incredible speed of the deployment as well. A 12-month rollout is aggressive for any company, let alone one with such a diverse range of PC applications as the Pentagon.
Related: Windows 10 finally surpasses XP
Many of the 4 million PCs are difficult to upgrade, because they're installed on submarines or airplanes or deployed on the battlefield. The Pentagon is also hugely concerned about security, which is why it has traditionally been among the last of Microsoft's customers to upgrade to a new Windows operating system. It had been waiting for all of the new OS bugs to be worked out first.
But hackers have been gaining ground at such a rapid pace that upgrading to a new operating system now represents a better line of defense.
"I see this as a best proof point for Microsoft showing that Windows 10 is certainly more secure than its predecessor and stable enough to be rolled out to millions of people," said Pat Moorhead, analyst at Moor Insights & Strategy.
Windows 10 has several new security features, including Windows Hello -- a biometric security system that's embedded in the operating system. The defense department currently uses add-on fingerprint and iris scanners. Since they're not rooted in Windows, add-on scanners potentially give hackers another gateway for attack.
Terry Halvorsen, chief information officer for the Pentagon, noted in Microsoft's announcement that the agency spends $44 billion annually on cybersecurity and IT. He said the DoD needed to "deploy innovation faster to ensure systems are more secure, more efficient and cost-effective, and standardized on one platform."
Related: Microsoft kills support for Windows 8
Microsoft said 76% of its existing corporate and education customers are testing Windows 10, and more than 200 million devices are currently running its latest operating system. It has been the fastest roll-out in Windows history, and Microsoft is well on its way toward reaching its goal of 1 billion Windows 10 installations by 2018.
The speed of Windows 10's adoption has been helped by Microsoft making its latest OS a free upgrade for any customer currently running Windows 7 or Windows 8.1. It also brought back the familiar Start menu and launched features like the Cortana voice assistant and the notification center.