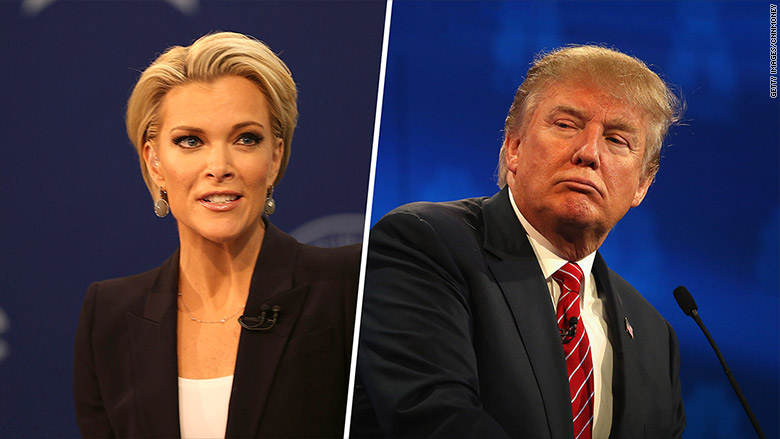 Republican presidential frontrunner Donald Trump has declined to participate in a special Fox News event on Wednesday in which Megyn Kelly will interview the GOP candidates.
The decision, which his campaign attributed to pre-existing campaign engagements, is likely to reignite discussion about Trump's longstanding feud with the network and with Kelly, whom Trump has accused of being unfair to him.
However, Trump spokesperson Hope Hicks told CNNMoney that the GOP hopeful will attend next month's Fox News debate in Detroit, Michigan, which is being co-moderated by Kelly, Bret Baier and Chris Wallace.
"The campaign has a previous engagement in Virginia and then New York, which could not be rescheduled. Given this was just proposed at the last minute it was not possible to change our plans in order to attend. Mr. Trump looks forward to participating in the next FOX News debate," Hicks wrote in an email.
Related: Trump, 'Morning Joe' hosts hot mic chatter fuels favoritism charge
"The Kelly File: Face to Face with Candidates," a special two-hour primetime event, will take place at 9 p.m. on Wednesday, February 24 from Houston, Texas. Kelly will interview Ted Cruz and Ben Carson in-person, and Marco Rubio and John Kasich via satellite.
Kelly "will engage with the candidates individually on stage and ask them about their policies and where their campaigns stand after Tuesday night's Nevada caucus and ahead of Super Tuesday," a press release from Fox News states. The event "will also feature an interactive audience of Texas voters who will be able to pose questions to the candidates, each of whom will be on stage one at a time with Kelly."
Related: Megyn Kelly on Trump: 'I stand by every question'
The event comes one night before the Republican candidates reunite on stage in Houston for the CNN Republican presidential debate, which is the final debate before Super Tuesday.