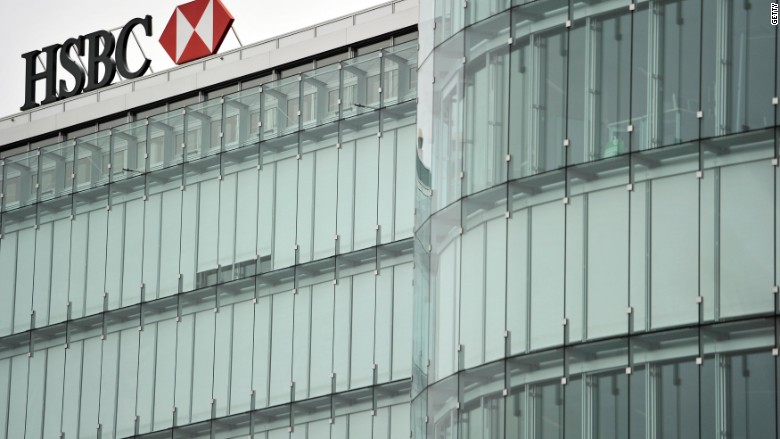 HSBC is in hot water over its hiring practices in Asia.
The London-based bank said Monday it was being investigated by the U.S. Securities and Exchange Commission over the recruitment of "candidates referred by or related to government officials or employees of state-owned enterprises."
HSBC (HSBC) said it was cooperating with the investigation but couldn't predict the outcome. It warned that the impact on the bank "could be significant."
It is not alone.
In 2013, the SEC began investigating whether hiring practices at a number of banks, including J.P. Morgan (JPM), had violated the U.S. Foreign Corrupt Practices Ac. The act makes it illegal for companies to give officials -- including employees of state-owned firms -- anything of value in exchange for business deals.
JPMorgan later disclosed that the U.S. Justice Department had also launched its own investigation. Officials are trying to establish whether the bank hired young workers from prominent, well-connected Chinese families in order to curry favor and win business.
Related: JPMorgan hiring in China being investigated
BNY Mellon (BKPRC) paid $15 million last August to settle charges that it violated the FCPA by hiring interns that were relatives of Middle Eastern officials.
That settlement was one of the first SEC actions under the FCPA, and set a precedent that even the hiring of interns could be scrutinized under the law.
Related: BNY Mellon pays $15 million to settle intern probe
On top of the SEC probe, HSBC had other bad news for investors Monday.
It posted a surprise $858 million pre-tax loss in the last quarter of 2015, helping to send its stock tumbling as much as 5% in London trading. HSBC shares in Hong Kong closed down 2%.
Related: Staying put: HSBC choose London over Hong Kong
Looking ahead, the bank expects to continue navigating rough waters in China.
"China's slower economic growth will undoubtedly contribute to a bumpier financial environment, but it is still expected to be the largest contributor to global growth as its economy transitions to higher added value manufacturing and services and becomes more consumer driven," said HSBC Group Chairman Douglas Flint.
The bank recently announced it would keep its headquarters in the U.K., after mulling a move to Hong Kong.