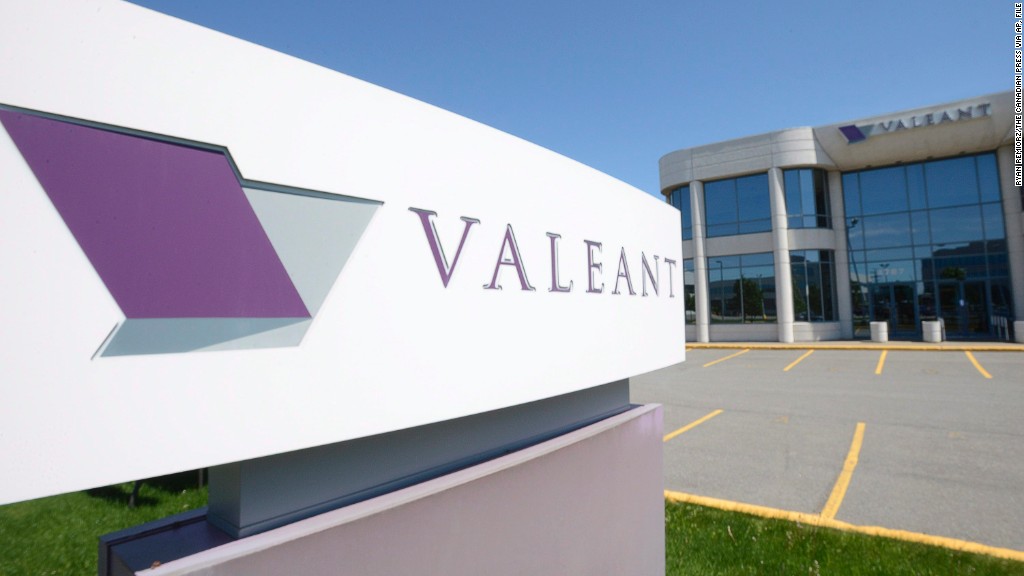 Valeant will have to restate its earnings after it booked millions of dollars in sales at the wrong time.
The pharmaceutical firm said in a statement late Monday that roughly $58 million in sales to now defunct pharmacy Philidor will have to be shifted to 2015 from 2014.
This means Valeant will delay filing its annual 2015 report to the U.S. Securities and Exchange Commission.
Shares plunged 7% in after-hours trading Monday after the Wall Street Journal reported that the company might have to restate some financial results when it finishes an internal investigation, although they recovered some of those losses on Tuesday.
Valeant (VRX) had hired a high-powered law firm to review its relationship with Philidor. The company severed ties with Philidor last year and has been accused of using the pharmacy to generate "phantom sales." Valeant has denied those claims.
Valeant also disclosed that interim CEO Howard Schiller had sold 54,000 shares of the company's stock on Thursday for $4.9 million. The company filing said the sale was "to cover certain tax obligations." Shares have plunged 17% between the time of the sale and the close of trading on Monday.
A Wells Fargo analyst came out with a critical research note on the company on Friday, which helped cause the sell-off.
Valeant stock has been struggling since October when a short-selling firm accused the company of massive fraud, similar to what doomed Enron. Federal prosecutors are investigating the way it prices and distributes drugs.
Schiller said the company is working to get back on track.
"The last few months have been challenging on many levels. We have made mistakes in the past and our focus today is on executing our business plan and rebuilding trust," he said in Monday's statement.
--CNNMoney's Alanna Petroff and Chris Isidore contributed to this report.