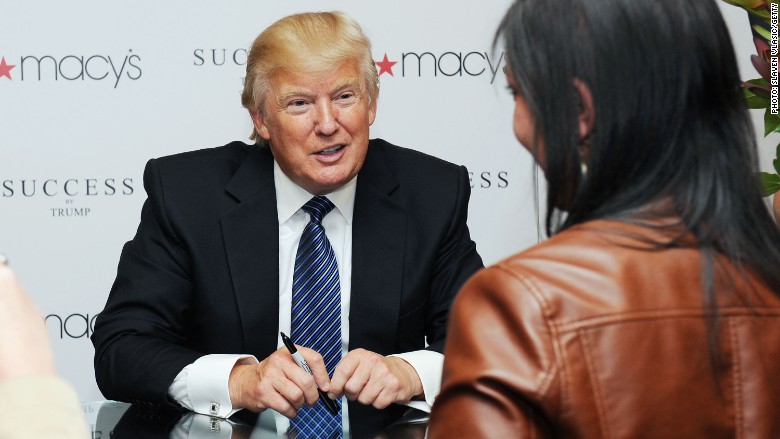 Republican presidential frontrunner Donald Trump called for a boycott of Macy's after the retailer dumped his clothing line following the controversial comments he made about Mexican immigrants last year.
But Macy's (M) may be having the last laugh. For now, at least.
The company's stock was up 4% Tuesday after reporting results that topped forecasts. And Macy's is actually one of the best performing stocks in the S&P 500 this year.
Yes, sales were down 5% in the company's crucial holiday fourth quarter. That's bad. But analysts were expecting the numbers to be even worse.
Macy's did not have a good 2015 -- unlike the Donald. But the struggling company is sounding more hopeful about 2016. (Maybe it's the Marco Rubio of retail?)
CEO Terry Lundgren said that sales improved in January thanks to the cold winter weather.
Related: Macy's to cut over 4,000 jobs following poor holiday sales
Unseasonably warm temperatures late last year hurt Macy's and other department stores. They were left with unsold inventories of hats, coats, gloves and other winter apparel. Those items finally started to fly off the shelves last month.
Lundgren also reiterated that the company is talking to potential partners about maximizing the value of its real estate holdings.
Activist investor Jeff Smith of Starboard Value, who is also pushing for big changes at Yahoo (YHOO), has been nudging Macy's to do more with its lucrative real estate properties.
The company also has plans to close underperforming Macy's and Bloomingdale's stores and lay off workers to try and get back on track.
Macy's is touting a strategy it's dubbed M.O.M. -- which stands for My Macy's (i.e. personalized shopping experiences), Omnichannel (think Internet and mobile shopping) and Magic Connections (efforts to increase customer loyalty and engagement.)
Let's be brutally honest though. This acronym is Dilbert-esque corporate mumbo jumbo jargon at its worst. You could easily call it D.U.M.B. for Desperate and Underwhelming Marketing BS. And why M.O.M.? Is the company implying that no men shop there?
It's going to take more time and effort for Macy's to win back customers. Amazon (AMZN) has hurt Macy's -- along with just about every other department store.
Fast fashion chains H&M, Forever 21 and Zara are tough competitors -- particularly on price. So are Walmart (WMT) and Target (TGT).
Related: Macy's store closings could leave a trail of dead malls
During a conference call with analysts, Macy's CFO Karen Hoguet expressed confidence that the company can beat back the threat from rivals. She said the company's exclusive fashion lines give it a leg up on Amazon and other competitors.
But that seems like backwards thinking. Nowadays, many customers -- especially Millennials -- seem to favor price and convenience over brand name designs.
And even though Macy's is promising a better 2016, the company still expects overall sales will be down (partly due to store closures) and that same-store sales will fall as well. That's troubling.
"In many locations Macy's stores are simply not up to par: they are poorly merchandised, hard to shop, lack any inspiration, and have fairly mediocre customer service," said Neil Saunders, CEO of retail research firm Conlumino in a report.
"Macy's is increasingly running a discount operation while trying to charge traditional department store prices," he added.
Macy's sales could slump further if the dollar rallies again.
Related: Macy's was one of the worst stocks of 2015
The strong greenback hurt Macy's badly in 2015 with fewer tourists from Europe and Japan shopping at flagship stores like the famous one in New York's Herald Square.
Nonetheless, investors seem to have faith in Lundgren's plan. The stock is now up 22% this year, following its more than 45% plunge in 2015.
"Given our determination to rise above our disappointing 2015 performance, I have reminded my team that our setback last year is a setup for our comeback," said Lundgren in the company's earnings release.
Of course, you don't need to have the hubris/self-confidence of Trump to point out the obvious.
A comeback is only necessary because you've lost your way in the first place. True market leaders/winners don't need to turn things around.