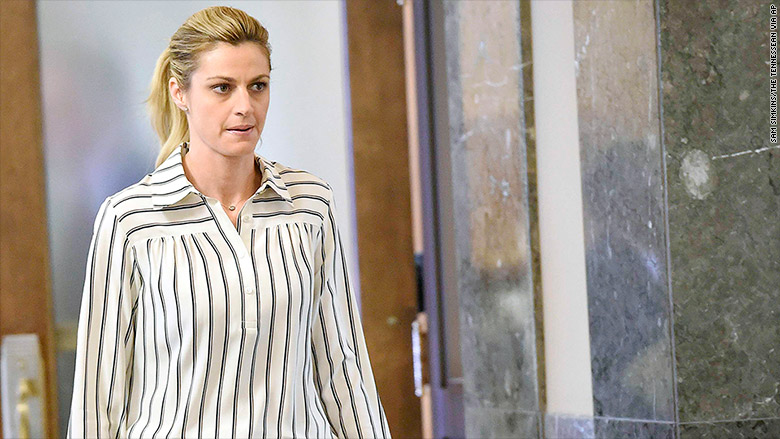 Eight years after she was secretly recorded nude in her hotel room by a stalker, sports broadcaster Erin Andrews' multi-million dollar negligence lawsuit has finally made it to trial.
Attorneys for Andrews and a Marriott hotel delivered their opening statements in a Nashville courthouse Tuesday.
Andrews, a reporter for Fox Sports, is suing the Nashville Marriott, where she was recorded nude through a peephole in 2008. She is seeking $75 million, citing the personal distress and humiliation of the video's release.
While Andrews stayed at the hotel on the campus of Vanderbilt University, she was secretly filmed by a serial stalker named Michael David Barrett, who was staying in the room next door.
Barrett was sentenced to two-and-a-half years in prison in 2010 after pleading guilty to interstate stalking. He admitted to checking into hotel rooms next to Andrews on three separate occasions and making two nude videos of her through peep holes that he rigged up.
Related: Sportscaster Ernie Johnson gives Emmy to Stuart Scott's daughters
Barrett tried unsuccessfully to sell the footage before posting it online, where it went viral.
On Tuesday, Andrews' attorney Randall Kinnard told the jury that Andrews, then with ESPN, was in Nashville to cover a Vanderbilt football game. Kinnard said that Barrett was able to book the room next to Andrews after learning from the Marriott staff which room she was stayng in.
Andrews' legal team alleges that the owner and management company behind the Nashville Marriott, West End Hotel Partners and Windsor Capital Group, were negligent.
"What could a man calling a hotel asking to be placed next to a woman mean?" Kinnard said, as quoted by The Tennessean. "It could be an ex-husband, it could be an ex-boyfriend, somebody who wants to hurt that woman. It could be somebody no telling what he wants to do."
The lawsuit has been filed against Barrett, West End and Windsor. Marriott International was dismissed from the lawsuit last week.
Sign up for the Reliable Sources newsletter
Marc Dedman, an attorney for the hotel, told jurors on Tuesday that the case should be entirely focused on Barrett.
"Every lawsuit is a story," Dedman said, according to The Tennessean. "You're going to get a story from this side, and you get to decide what happened. This is a story about a serial stalker."