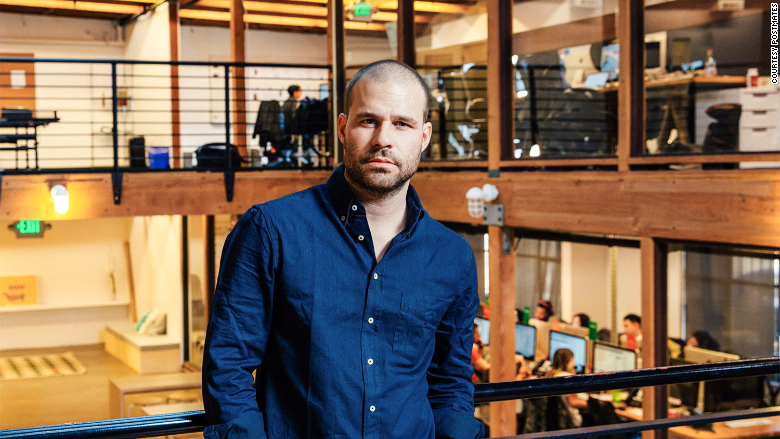 Build to survive.
That's message that Bastian Lehmann, cofounder of on-demand delivery startup Postmates, had for founders at Startup Grind's Global Conference on Tuesday.
In a conversation with Spark Capital's Nabeel Hyatt -- a Postmates investor -- Lehmann said listening to investors isn't always in a company's best interests.
"Over the last 24 months, everybody told us that the only thing that matters is growth, growth, growth," said Lehmann onstage in Redwood City, California. "If I had to take at face value every single [piece of] advice I got ... Postmates wouldn't be here."
Lehmann spoke generally about the prevailing Silicon Valley attitude of scaling at all costs, later emphasizing that his investors were supportive of his focus.
Postmates, founded in 2011, has raised more than $138 million. When it raised $80 million in June, it was valued at more than $400 million.
That number could have been much higher, said Lehmann, if he'd listened to advice from investors who told him not to worry about gross margins and instead heavily invest into growing its fleet of delivery people.
If he had done that, Lehmann said, Postmates "probably could have had a valuation of $100 to $150 million more."
"[But] what happens two months later?" he asked, adding that careful growth -- and growing margins -- are what's important. Postmates is now in 40 markets.
Related: Uber competitor says its drivers will own the company
Lehmann said companies that had been operating in hyper-growth mode are now struggling to explain how they're ever going to make money. "People are now looking at gross profit margins," said Lehmann, who said he believes it's a CEO's fundamental job to focus on these numbers.
He said many companies "do a poor job" of understanding their economics.
"You can spend a fortune on courier acquisition, but then you have a bad gross profit margin. So the right thing to do is probably to invest in the efficiency of the fleet," he said. (Postmates is not yet profitable, but said it is on track to be in 2017.)
Related: Reality check for tech workers: They may not strike it rich
Scaling too fast is also a mistake that keynote speaker Guy Kawasaki warned entrepreneurs about.
In a keynote speech earlier Tuesday, Kawasaki -- an entrepreneur and former Apple exec -- said that scaling too quickly is "probably the most common thing that kills companies."
"I've never seen a company die because it doesn't scale fast enough," he added.
What's important, Kawasaki stressed, is sales. "Sales fix everything."