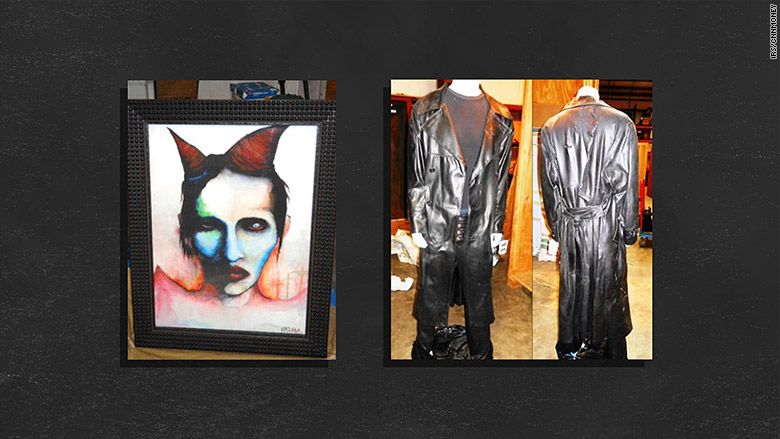 The IRS is auctioning a treasure trove of memorabilia confiscated from a collector who didn't pay his taxes, including a jacket with a hole in it reputedly worn by Brandon Lee when he was shot on the set of "The Crow."
Most of the memorabilia relates to music, including guitars autographed by Nikki Sixx, Ozzy Osbourne, Kurt Cobain and Joe Walsh. There's also a drum set from Anthrax, a devil portrait of Marilyn Manson, photos of King Diamond and ripped jeans from Lita Ford. There are autographed records from Led Zeppelin, Jimi Hendrix, White Zombie and Sisters of Mercy.
The collection, which includes letters from "Helter Skelter" killer Charles Manson, was seized from a physician in Kansas City, according to the IRS. It's all going to be auctioned Wednesday in Overland Park, Kansas. Bidders must show up in person.
Deborah Evenson, property appraiser and liquidation specialist for the IRS, said the federal government cannot confirm the provenance of any of the items.
"We can't say for sure anything, and we never would," she said. "Even if we have certificates of authenticity, it is what it is."
This applies to the centerpiece of the auction: the black jacket worn by Brandon Lee, the son of Bruce Lee, who died in an on-set accident in 1994. Evenson said the auctioneer who sold the jacket to the collector claimed that it was worn by Lee when he was fatally shot during the filming of "The Crow," which supposedly explains the hole in the jacket. But the IRS would not confirm this.
Nor would the IRS identify the collector, who had paid $20,000 for the jacket, making it the most valuable item in the collection.
Adam Cohen, a collector of movie memorabilia who was researching a documentary about Lee, said it's difficult to identify the jacket that Lee wore when he was killed, or to confirm whether he even wore a jacket.
"That actual footage from when he died has never seen the light of day," said Cohen.