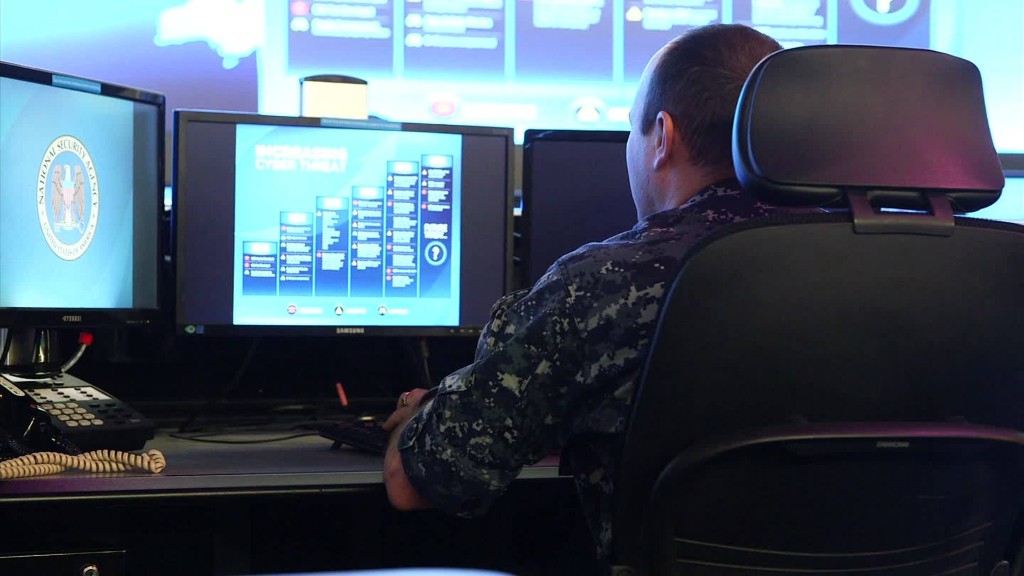 A group of ISIS supporters has threatened to take down Facebook and Twitter -- as well as their leaders.
Photos of Mark Zuckerberg and Jack Dorsey appear multiple times in a 25-minute video created by a group that calls itself the Sons Caliphate Army. The images of the two CEOs are sometimes engulfed in flames, or marked with bullet holes.
The video is in response to efforts by Facebook (FB) and Twitter (TWTR) to stop terrorist activity on their platforms.
A slide toward the end of the video reads, in English: "To Mark and Jack, founders of Twitter and Facebook / and to their Crusader government / You announce daily that you suspended many of our accounts / And to you we say: Is that all you can do? You are not in our league. If you close one account we will take 10 in return and soon your names will be erased after we delete you [sic] sites, Allah willing, and will know that we say is true. #Sons_Caliphate_Army"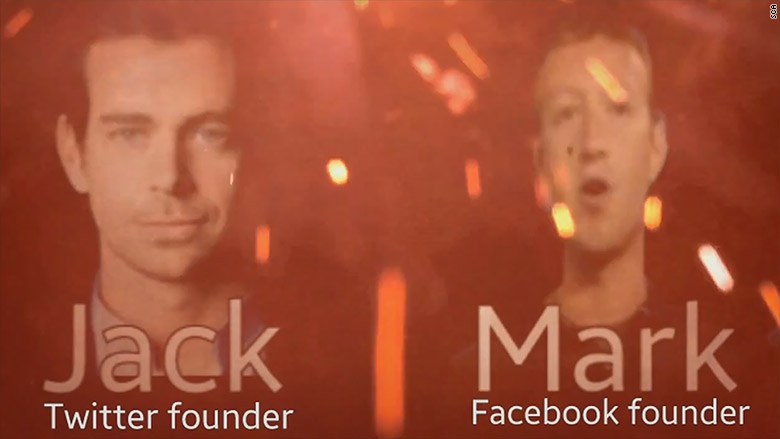 In a separate slide, they also claim to have hacked more than 10,000 Facebook accounts, 150 Facebook groups, and more than 5,000 Twitter accounts.
"Many of these accounts have been given to supporters and if Allah permits the rest of them will be distributed also," they add.
Two scholars who track ISIS activity online confirmed that the video CNNMoney watched was posted Tuesday morning to multiple ISIS forums, including some on the social media platform Telegram. Existence of the video was first reported by Vocativ and The Sun.
ISIS and related terrorist groups have targeted Dorsey at least twice in the past year. A group of self-identified ISIS supporters threatened the Twitter founder and CEO in March of 2015 for closing hundreds of their social media accounts.
In its threat, the group claimed that Dorsey and his company started a "war" against the Islamic State, and that the "necks" of Twitter employees have "become an official target to ISIS soldiers and supporters."
Related: An app called Telegram is the 'hot new thing among Jihadists'
Twitter seems to have only stepped up its efforts to wipe ISIS off its platform since then.
A few weeks ago, the company announced it had suspended more than 125,000 accounts for threatening or supporting terrorist acts over the past several months.
Twitter also said it has grown its team that looks into reports of terror activity on its network.
During his keynote at Mobile World Congress this week, Zuckerberg reiterated his stance and Facebook's policy on helping to fight terrorism online.
"We feel like we have a pretty big responsibility running this big networking community to help prevent terrorism and different kinds of attacks," he said on Monday. "We have very strong policies on this."
Zuckerberg said in a past town hall that anything that incites violence or terrorism, "we just take down immediately."
Related: Mark Zuckerberg backs Apple in encryption debate
A Facebook spokeswoman did not immediately respond to request for comment on this week's threat.
A Twitter spokesman reiterated the company's policy and progress on suspending accounts that promote terrorism or any violent threat.
-- CNNMoney's Jose Pagliery contributed to this report