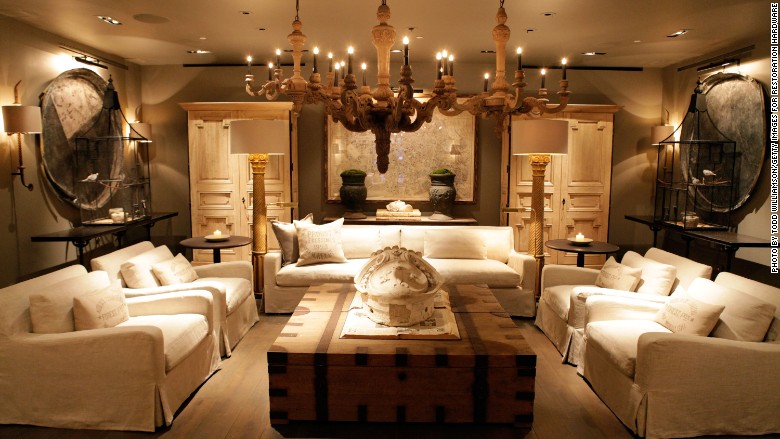 There's trouble in McMansion land. And it's being caused by the market mayhem.
At least that's the message from Restoration Hardware (RH). The high-end furniture store just bombed its latest quarterly report -- and laid a chunk of the blame on Wall Street turmoil.
"Increased volatility in the U.S. stock markets, especially the extreme conditions in January" hurt sales, Restoration Hardware boss Gary Friedman told investors on Wednesday.
In general, upscale shoppers watch their portfolios' performance more closely when making big purchase decisions.
Rich customers thinking about splurging on pricey furniture may have been spooked by the market's terrible start to 2016. The Dow slumped 5.5% in January and an incredible 93% of investors lost money.
Related: America's bull market may end soon, but...
"If the consumer is worried about their savings and income for the next year, a $4,000 sofa is a very easy purchase to hit pause on," said Bradley Thomas, an analyst at KeyBanc Capital Markets who downgraded the stock on Thursday.
There is a precedent for furniture stores to experience trouble during times of market stress. Thomas said Ethan Allen (ETH) and Select Comfort (SCSS), for example, suffered 30% to 40% sales plunges during the late 2008 meltdown on Wall Street.
People who own lots of Restoration Hardware stock aren't likely to buy a giant $8,000 Italian leather sectional now either. After Restoration Hardware revealed fourth-quarter results that badly missed expectations, the stock plummeted 25% Thursday. That puts it on track for the deepest one-day dive since the company went public in 2012.
Restoration Hardware said furniture shoppers in Canada, Texas and Miami were also rattled by the volatility in the energy, oil and currency markets. The company said sales in those markets were trending an alarming 20% below the rest of the company.
The crash in oil prices has created shockwaves throughout the energy industry, causing dozens of companies to file for bankruptcy and many more to lay off thousands of workers. Restoration Hardware has six stores in Texas, including one in the oil hub of Houston. The luxury store also has two locations in the once-booming Canadian oil towns of Edmonton and Calgary.
"These results tell us the conditions remain weak in these markets," Friedman said.
Related: Why people are freaking out about cheap oil
Restoration Hardware may run into further trouble given the fact that financial markets remain very rocky this year. Stocks have rebounded, but the S&P 500 is still down nearly 6% in 2016 and former moneymakers like Apple (AAPL), Amazon (AMZN) and Netflix (NFLX) are all in bear markets.
"We're concerned that macro factors could make 2016 a very challenging year" for Restoration Hardware, Cowen & Co. analyst Oliver Chen wrote in a research report on Thursday.
The analyst slashed his price target on Restoration from $64 to $47.
Piper Jaffray analyst Neely Tamminga expressed skepticism over Restoration's willingness to blame the market mayhem. She believes Restoration is facing a rising online competitive threat from the likes of Wayfair (W), which offers moderate to high-end furniture.
"The competitive landscape -- especially online -- has swiftly evolved," Tamminga wrote in a report slashing her price target from $91 to $48. "Share shift could be underway."