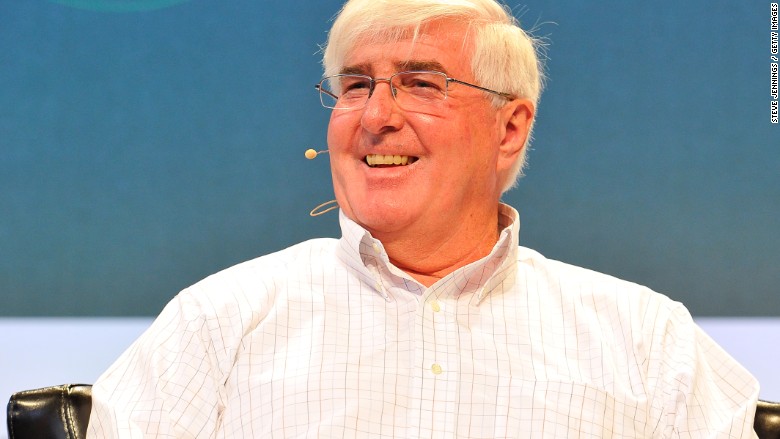 Silicon Valley hasn't given up its fight for immigration reform.
"We're dissatisfied, restless, frustrated -- but not deterred," said legendary investor Ron Conway at the Startup Grind Global Conference on Wednesday.
Conway is one of the original backers of FWD.us, a group focused on immigration reform. Pronounced Forward.US, it was launched by Mark Zuckerberg and other tech CEOs in 2013.
The group has pushed to increase legal immigration and create more paths to citizenship -- but Conway said lobbying Washington was a whole different beast compared to launching a tech product.
Related: The next Google is one visa away from leaving the U.S.
Conway, who heads up SV Angel and has backed companies like Facebook (FB), Twitter (TWTR), Airbnb and Google (GOOG), said that while past attempts haven't been successful, FWD.us is gearing up to make another strong push for comprehensive immigration reform.
That would include pushing for a startup visa, which would make it easier for foreign entrepreneurs to run businesses in the U.S.
"28% of new [tech] startups in American are started by immigrants," said Conway.
"Immigrants are great founders -- it's just a fact of life ... We have CEOs who can't even stay in the country with the rest of their team. That's the most catastrophic case."
Related: Donald Trump calls out Mark Zuckerberg on immigration
Other elements of a comprehensive reform, Conway said, include a path to greencards for immigrants who graduate from a U.S. colleges, and raising the annual cap of H-1B visas, which are the most popular visas for high-skilled workers.
FWD.us has been stealthily building up grassroots support across the country for when it begins lobbying in Washington again, said Conway. He said the frustration with Washington is palpable, as evidenced by the fact that "two extremists" -- Donald Trump and Bernie Sanders -- are garnering a lot of support from Americans.
Related: High-skilled visa applications hit record high
"I think Trump obviously has it all wrong -- but he's winning," said Conway.
It isn't the first time Silicon Valley has butted heads with Trump. In August, Trump took a swipe at Zuckerberg's immigration reform efforts, saying his proposal to increase the H-1B cap would "decimate women and minorities."
So, who does Conway support? Michael Bloomberg. Conway said he's in "the right spot" when it comes to immigration reform and gun control.
"Let's hope that some of our great founders do have political aspirations, because nothing would be better for this country if entrepreneurs someday would go into politics," he said. "I haven't found too many yet, but I'm hoping it happens."