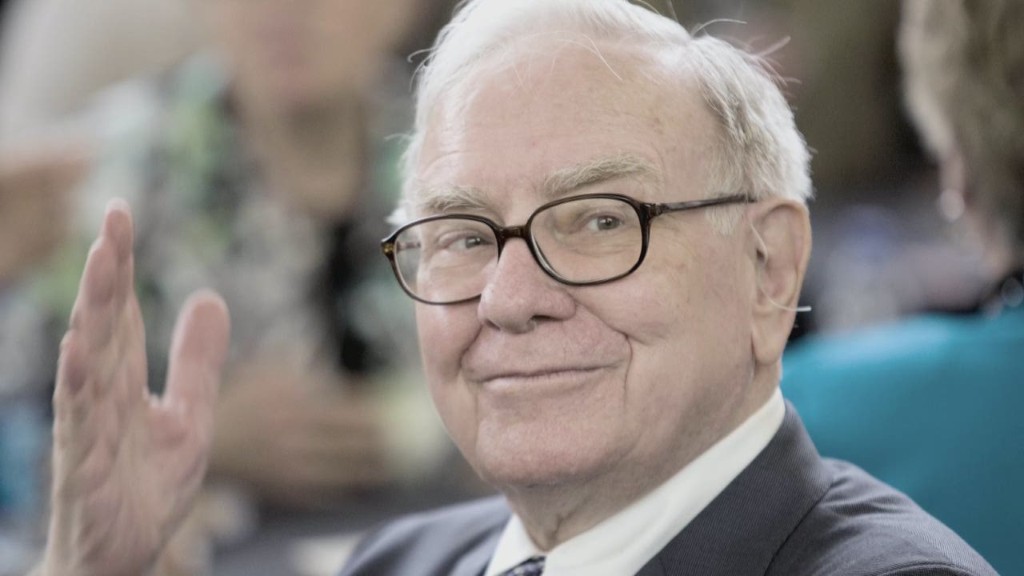 Berkshire Hathaway celebrated its 50th anniversary under the leadership of investing guru Warren Buffett in 2015. However, it turned out to be a year when Berkshire's returns were not worth writing home about.
Shares of both Berkshire Hathaway's only for the 1% A shares (BRKA) (trading around $200,000!) and average Joe and Jane B shares (BRKB) each fell about 14% -- lagging the broader market.
Of course, Buffett shouldn't feel the need to apologize to his long-time fans in his annual shareholder letter, which will be released on Saturday morning. After all, Berkshire has beaten the broader market over the past 5, 10 and yes, 50, years.
And Berkshire's stock is actually up slightly so far this year while the S&P 500 has fallen nearly 5%.
Still, it will be interesting to see if he defends some of the company's most lackluster investments -- most notably American Express (AXP), IBM (IBM), Procter & Gamble (PG) and Walmart (WMT).
Buffett has mentioned in previous shareholder letters that his two investing lieutenants Todd Combs and Ted Weschler have been better stock pickers than him lately. Will he turn more of the investing side of things over to them?
Related: Buffett is betting big on oil stocks
There's also a good chance Buffett will touch on the relatively sluggish performance of its Burlington Northern Santa Fe railroad -- which has been hurt by a decline in oil and coal prices.
The plunge in oil is a problem for Berkshire -- but it may also be an opportunity.
Berkshire seems to be betting that oil prices could soon bottom out. It has increased its position in refiner Phillips 66 (PSX) and also acquired a stake in pipeline operator Kinder Morgan. (KMI)
What's more, lower energy prices should boost profits at the Berkshire Hathaway Energy unit -- which owns several large utilities throughout the United States.
Buffett is expected to discuss his continued desire to keep making big deals as well in the shareholder letter.
Last year, he wrote that "Berkshire is now a sprawling conglomerate, constantly trying to sprawl further."
He wasn't kidding. Berkshire, which teamed up with private equity firm 3G Capital to buy Heinz in 2013, struck again last March. Heinz announced plans to merge with Kraft.
Kraft Heinz (KHC) is now Berkshire's largest holding. And it has done extremely well for Buffett. The stock is up nearly 10% since the merger was completed in July. It gained more than 3% Friday following a strong earnings report.
Related: Berkshire Hathaway to livestream this year's shareholder meeting on Yahoo
Berkshire followed up the Kraft deal with the purchase of jet engine parts maker Precision Castparts for more than $37 billion in August. That was Berkshire's biggest acquisition ever.
Will Buffett hint at other deals? Berkshire, which also owns Geico, Dairy Queen, Benjamin Moore and Fruit of the Loom, could look to expand further in insurance and consumer products.
And then there's the issue of who will one day be the next CEO of Berkshire Hathaway.
Although Buffett has given no indication that he has any plans to retire, the question of succession will continue to be a big one for Berkshire. After all, he will turn 86 in August. And Berkshire vice chairman Charlie Munger recently celebrated his 92nd birthday.
Munger seemed to suggest that there are two lead candidates for the job.
He wrote in last year's Berkshire shareholder letter that Berkshire reinsurance head Ajit Jain and Berkshire Energy CEO Greg Abel are "proven performers who would probably be under-described as 'world-class.'"
Munger added that he doubted either Jain or Abel would ever leave Berkshire or seek to change how the company is run.
Buffett was more coy though. He said last year that he and the rest of the Berkshire board "now have the right person to succeed me as CEO -- a successor ready to assume the job the day after I die or step down."
He didn't give a name but he added that this person is someone that already works at Berkshire and is "relatively young."
Jain is 64. Abel is 53. So that makes them both "relatively young" compared to Buffett.
Perhaps The Oracle of Omaha will give more clues in the latest shareholder letter.