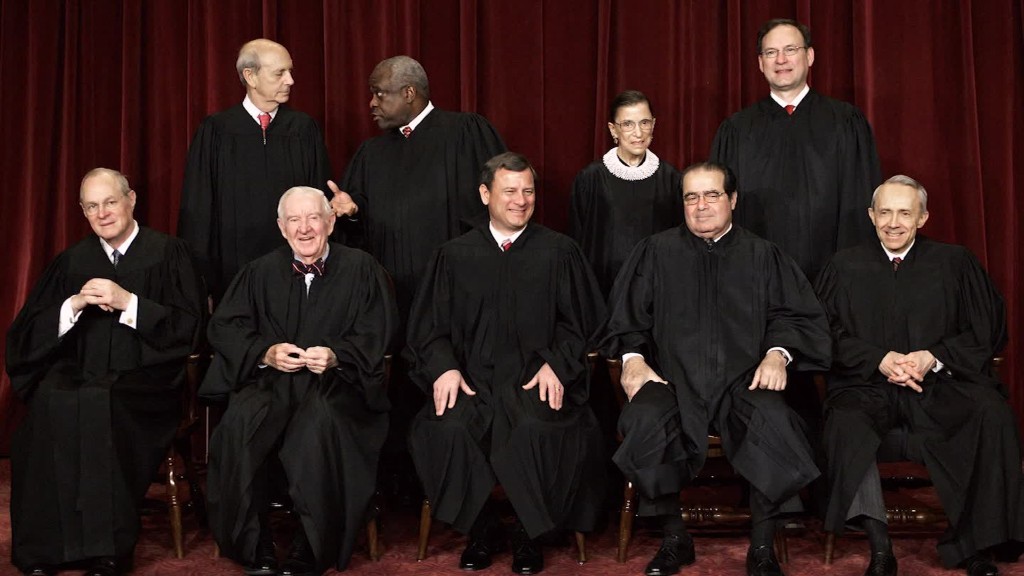 The death of Supreme Court Justice Antonin Scalia has prompted Dow Chemical to settle a class action lawsuit and pay out $835 million.
A jury hit Dow with a $1.1 billion judgment in a price fixing case, and the company was appealing the verdict all the way to the Supreme Court.
Now the settlement will put the case to an end.
Dow Chemical said Friday that it no longer thinks it could win its appeal because of Scalia's death on February 13.
Scalia was one of the most conservative justices on the nine-member court and a consistent vote on the side of business in class action cases. His death and a political dogfight over the nomination of a successor creates the prospect of 4 to 4 deadlocks in controversial cases.
"Growing political uncertainties due to recent events within the Supreme Court and increased likelihood for unfavorable outcomes for business involved in class action suits have changed Dow's risk assessment of the situation," Dow (DOW) wrote.
In its petition to the Supreme Court, the company cited a 2011 class action involving Walmart (WMT) and a 2013 case involving Comcast (CMCSA).
Scalia wrote the court's majority decisions in both cases -- and in favor of the businesses.
The court had not yet considered the case. Dow Chemical had only petitioned the Supreme Court to ask it to throw out the lower court's verdict. Now it has asked the court to put its petition on hold until it finalizes its settlement.
Related: Breyer on Scalia - 'He was a good friend'
There was no guarantee the Supreme Court would have taken up Dow's appeal. But if it had and divided 4 to 4, the underlying U.S. Court of Appeals decision in favor of the plaintiffs would stand.
The case involved an allegation that Dow and other makers of a chemical known as urethane had conspired to fix prices between 1999 and 2004. Other defendants in the case settled with the plaintiffs but the case against Dow went to a jury trial.
Related: The CNN Supreme Court short list
Dow's statement said that the charges of price fixing had been investigated by the Justice Department, which had closed its probe in 2007 without taking any action against Dow.
The company said "it continues to strongly believe that it was not part of any conspiracy and the judgment was fundamentally flawed as a matter of class action law."