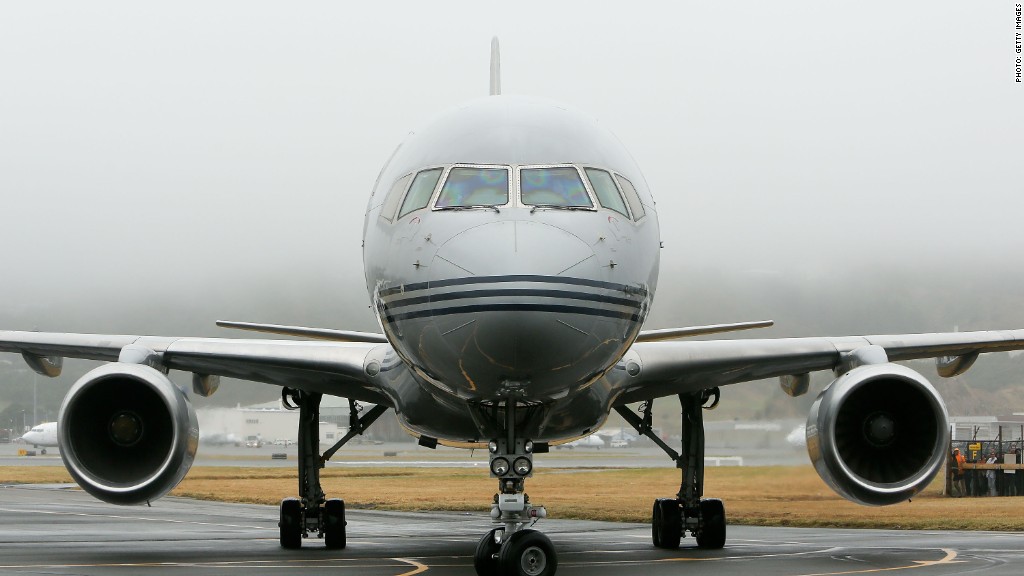 A shortage of pilots has caused a major feeder airline to file for bankruptcy.
Republic Airways (RJET), which flies smaller regional jets for United Airlines (UAL), Delta Air Lines (DAL) and American Airlines (AAL), said the shortage of pilots has caused it to ground so many of its planes that it was forced it to file for bankruptcy protection. The airline filed for bankruptcy in New York on Thursday.
"We worked hard to avoid this step," said CEO Bryan Bedford. He said the airline plans to continue normal operations during the reorganization.
Republic has a fleet of about 240 regional jets and operates about 1,250 flights a day to about 100 cities in the U.S. and Canada. They fly under the American Eagle, Delta Connection and United Express names. It has about 6,000 employees, of whom 2,100 are pilots.
But for the first three quarters of last year the number of hours it flew dropped by about 5%. And it faces a lawsuit from Delta charging it with breach of contract for failing to operate all of the flights it had contracted to fly.
Related: This is the best time to buy a plane ticket
Regional carriers are a key part of the nation's air service, operating 45% of the flights and being the sole provider of service to many smaller cities.
Republic pays its new hires about $40 an hour under a new contract that took effect in November, nearly double what they were paid under the previous contract. It also offers a $7,500 signing bonus.
But Kit Darby, an expert on pilot pay, said regional pilots can only fly about 1,000 hours a year, so the $40 an hour isn't as much pay as it appears.
"The pay is coming up very quickly, and it needed to," said Darby. "They were woefully underpaid before, making maybe $23,000 a year. But just increasing the pay doesn't create any more pilots."
Related: Airlines saved $11 billion on fuel. You saved 8 bucks
Darby said safety rules have tightened in recent years, and new regional airline pilots today must have 1,500 hours of flying experience compared to 250 hours previously. So filling the shortage of pilots at regional carriers won't be fixed quickly.
"All the regional airlines are dealing with shortages," he said. "We've had shortages in the past, but they didn't last very long. This is different."