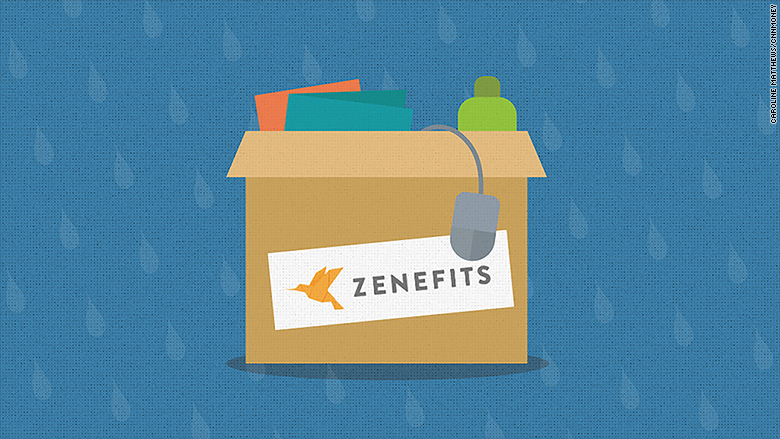 Zenefits is laying off 250 people.
That's 17% of the HR software company's current workforce.
It's just the latest change by new CEO David Sacks, who took over earlier this month after CEO and founder Parker Conrad abruptly resigned. The startup has been roiled by a series of allegations about fraud and a disastrous company culture.
The cuts are mostly to the team's sales organization, particularly those who went after the largest accounts, and will eliminate the enterprise sales team.
Unicorn once worth $2.7 billion collapses into bankruptcy
When Sacks took over, he announced that the company would double down on catering to small businesses.
"It's no secret that Zenefits grew too fast, stretching both our culture and our controls," Sacks wrote in an email to employees Friday morning. "This reduction enables us to refocus our strategy, rebuild in line with our new company values, and grow in a controlled way."
He said the job cuts were not due to performance reasons.
Zenefits -- which manages everything from payroll to health insurance -- has raised more than $580 million and was last valued at $4.5 billion.
Marc Andreessen: There aren't enough unicorns
The company has found itself in the spotlight in recent weeks.
In November, a Buzzfeed investigation said that the company's salespeople were acting as insurance agents without proper licensing in at least seven states. California regulators are investigating whether Zenefits helped some of its agents illegally obtain their insurance licenses.
In December, Sacks said Zenefits hired a Big Four auditing firm to conduct a review of the firm's licensing procedures.
Sacks previously said he would conduct a "top-to-bottom review to ensure appropriate and best-in-class corporate governance, compliance and accountability."
Last week, Sacks said that the firm would no longer permit alcohol consumption in the office. Reports also surfaced that cigarettes, beer cups and used condoms had been found in the company's stairwell.
Anne Wojcicki: FDA shutdown was 'a transformative moment'
In his email on Friday, obtained by CNNMoney, Sacks noted that he's "seen a number of attempted tech turnarounds. Frankly, they don't have a very good track record."
But he emphasized that he didn't believe that was the case here.
"Zenefits has made mistakes but it never lost its product-market fit," he added. "I have confidence that we will turn a corner and deliver on our promise."