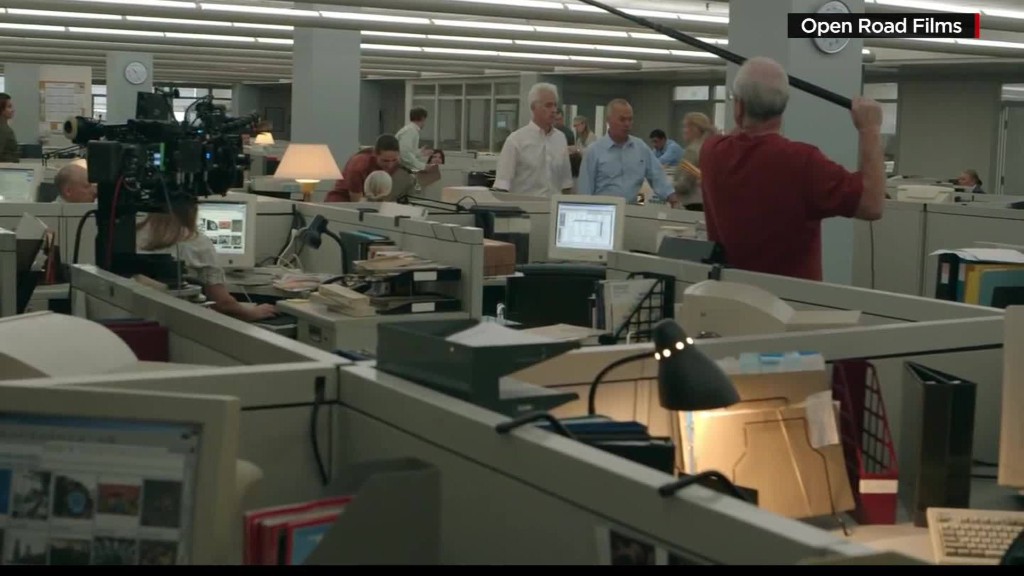 The six proudest people at the Dolby Theatre on Sunday night were the six real-life reporters played by actors in the movie "Spotlight."
When the movie won the Best Picture prize at the end of the night, the reporters were overjoyed.
"We are so excited and overwhelmed. So grateful," Matt Carroll said via text from the theatre. "We hope the movie continues to help victims for a long time to come."
Even before Oscar night, "Spotlight" had been praised as the most influential and critically acclaimed movie about journalism since "All The President's Men" in 1976. It has inspired people in newsrooms all across the country.
The movie dramatized the 2001-2002 investigation by the Boston Globe's Spotlight unit into sex abuse by Catholic priests and spurred some abuse survivors to come forward for the first time.
Carroll and the other five journalists featured in "Spotlight" have been involved in awards season promotion for months. They're eager to get back to their day jobs -- but not before getting a taste of Hollywood life via the Academy Awards.
In the days leading up to Oscar night, CNNMoney spoke with the journalists at the heart of the story:
Marty Baron, editor: Liev Schreiber
Ben Bradlee Jr., projects editor: John Slattery
Walter "Robby" Robinson, Spotlight team leader: Michael Keaton
Sacha Pfeiffer, reporter: Rachel McAdams
Mike Rezendes, reporter: Mark Ruffalo
Matt Carroll, reporter: Brian d'Arcy James
Hollywood stories
What have the journalists learned from the awards season experience?
SACHA PFEIFFER: People keep asking us, 'Is this fun?' I say it's more fascinating than fun.
MATT CARROLL: It's been totally surreal. Surreal.
BEN BRADLEE JR.: It's been heady and quite fun in all honesty.
MIKE REZENDES: We've been given this opportunity to spread the word. I always pivot the conversation to, A, the survivors, and B, the importance of investigative reporting.
SACHA: I've gotten kind of shameless when I speak publicly -- really urging people to subscribe to the paper -- whether it's digital or on the doorstep.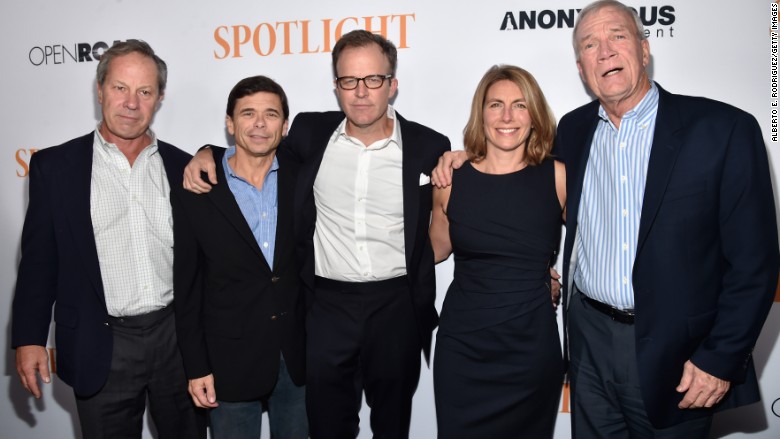 First a Pulitzer ... Now an Oscar?
The Globe won a Pulitzer, the most prestigious award in journalism, for its investigation. But this awards season has been different.
MARTY BARON: The Pulitzer is an honor that's largely recognized by people in our own profession.
MATT: My wife said to me, 'When you won the Pulitzer, you got like one weekend's worth of attention. Now they make a movie out of this thing, and it's been months!'
SACHA: Family members have said to some of us, 'Oh, now I understand what you do.'
WALTER "ROBBY" ROBINSON: This film is substantially greater than anything we can do on the front page of a newspaper.
MARTY: This experience has revealed to me that there are still millions upon millions upon millions of people around the world who were not aware of the back story; who were not even aware necessarily of the wrongdoing by the church itself.
MIKE: The issue of clergy sex abuse has become a political football inside the Vatican. I think the movie is helping put pressure on the Vatican to do the right thing.
Walking the red carpet
Now the journalists have parachuted into Hollywood the way reporters sometimes parachute into strange, unfamiliar lands. All six have tickets for Sunday's Oscars ceremony.
BEN: I'd never heard of half these awards they have, leading up to the Oscars. They consider each one of these preliminary awards 'stepping stones.'
SACHA: Vanity Fair had a dinner for us on Wednesday night. Thursday night was an L.A. Press Club event. Then the Independent Spirit Awards on Saturday.
MATT: On Sunday, we have a schedule. 'Be here at the lobby at the hotel at 2:40 p.m.!' We'll be there. We're ready -- I've got the tux. My wife's got the gown.
SACHA: It wasn't clear until about a month ago that we could actually get in. I do think we're going to be way up in the nosebleed section. But we're just happy to be in the room!
ROBBY: One thing I'm certain of is, if there's a back row, I'll be in it.
The making of "Spotlight"
The journalists were interviewed by the screenwriters and they were invited on set during the production. When the movie was almost ready, they attended a private screening in Boston.
BEN: It was a rough cut. We saw it on a small little screen, the sound wasn't properly mixed, and there was no score yet.
MATT: I walked out of there and I thought my head was going to fall off. It was just so strange.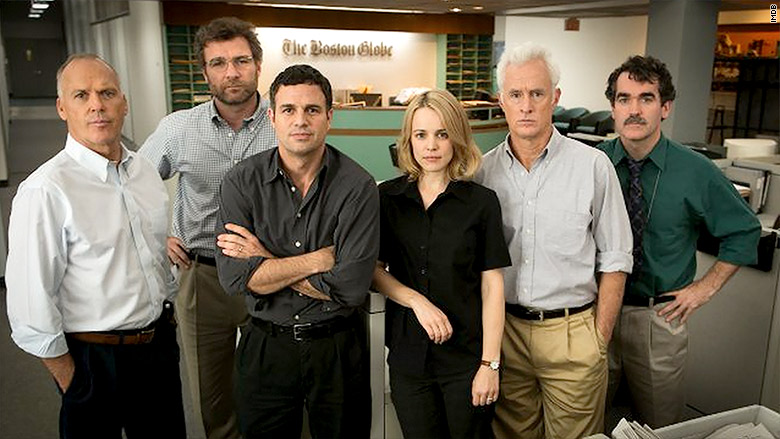 What the premiere felt like
The reporters did not attend the "Spotlight" world premiere at the Venice Film Festival. But they did attend its North American premiere at the Toronto International Film Festival in September.
MATT: I thought, 'Wow, this is a pretty good movie!'
SACHA: Toronto was a turning point.
ROBBY: We were all a little gobsmacked to see the film for the first time on a wide screen.
BEN: We were seeing it on the big screen for the first time. And perhaps more importantly, we were sitting in an audience and seeing how they reacted to each scene. It was quite emotional.
SACHA: After the premiere, the director and the screenwriter got on stage, and they called the cast on stage. These are big movie stars -- the crowd went crazy.
ROBBY: Then Tom said, 'We have special guests tonight -- we have the people portrayed in the film.'
SACHA: And the crowd went ballistic.
SACHA: I think that was the moment that the movie studio realized we could be valuable to them -- in terms of spreading word about the movie.
ROBBY: As much time as we could give them, they wanted us to be present at screenings, etcetera etcetera.
SACHA: We could talk about the movie thoughtfully; we were more available than the actors; and we were relatively cheap. Give us some extra legroom on the airplane and we're thrilled.
On the road with "Spotlight"
Premieres in New York, Boston, and Los Angeles followed. The reporters are not being paid to promote the movie; they're only being compensated for travel and accommodations on the road.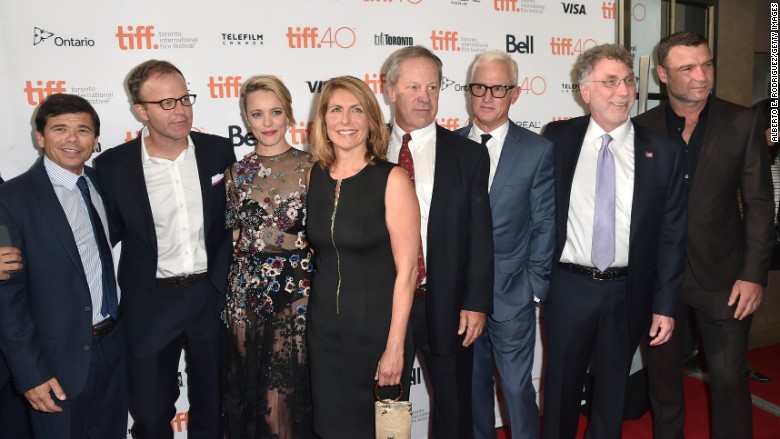 BEN: We've done a lot of Q&As, often with our doppelgängers.
ROBBY: I've spent most of my time since last fall talking about the movie. When you're not on the road, you're doing telephone interviews with reporters in places like Brazil and Ireland and Argentina.
BEN: One of the key messages of the movie is to underscore the value of investigative reporting to society. And that's a good message to share.
MIKE: Investigative reporting is in crisis right now. Journalism is in crisis. The movie lets people know why what we do is so important.
SACHA: I kind of feel like I've been on an informal leave to spread the word about the movie. I think my bosses have been supportive of that because they realize it's good for the paper. We've become like brand ambassadors.
ROBBY: For those of us who still work at the Globe, this film is a big shot in the arm.
SACHA: So many people have said to us that they feel like this movie is going to inspire many young people to want to become reporters. I think what's even more important is that this movie can help people realize that it's important to buy a newspaper.
MIKE: All of them are potential subscribers to newspapers -- or donors to online news organizations.
The impact of "Spotlight"
Sacha noticed a recent news story about a newspaper forming a "Spotlight-like team" of investigative journalists.
SACHA: A 'Spotlight-like team.' It's almost become like shorthand, like vernacular. That's the impact this movie has had. ... We know what country the movie is opening in based on what emails are flooding our inboxes.
ROBBY: They're mostly emails from people thanking us; praising the film; talking about how bad, how dire the situation had been, and still is, in their own dioceses -- and usually once a day each of us gets one or more emails from victims.
MIKE: I get a lot of story tips now. Some of them are really good tips that I don't think I would have gotten otherwise.
MATT: People have asked us to come investigate things in other states.
In the spotlight while colleague was in Tehran jail
During the press tour, Marty and his colleagues at The Washington Post were exerting time and energy seeking the release of Jason Rezaian, the Post's Tehran correspondent, who had been imprisoned in Iran since July 2014. Marty felt guilty at times.
MARTY: It's a little weird for someone like me to be on the red carpet, surrounded by famous actors and actresses, things like that, and to have the entertainment press interviewing you while one of your colleagues is sitting in an Iranian prison with uncertain prospects for being released. You feel a little guilty, frankly. Why should I be here enjoying myself while a colleague is sitting in a prison?
You sort of have to go on with life, obviously. You can't shut yourself away from work and friends and things like that. But it does occur to you, as you're going through this process, that this is a weird coincidence and an uncomfortable coincidence. ... I noticed how people were referring to him by his first name -- they were deeply concerned about his predicament. (Rezaian was finally released in January.)
Movie touches the lives of victims
Moviegoers also approached the reporters and shared their own wrenching stories of clergy abuse.
SACHA: The movie is proving to be such a liberating, empowering thing for clergy sex abuse survivors.
ROBBY: I gave a talk last Thursday evening in Boston. Afterwards, a guy I know, a retired lawyer, came up to me and told me how he was abused by a priest in the New York archdiocese in the 1960's. This is somebody I know who'd never said anything to me about this.
The glitz of the movie biz
On a much lighter note, the journalists have also gained knowledge about the movie industry along the way.
MATT: It's an alternative universe. You can see how people's heads can get spun around. You know, the limos. The fancy meals. If you do this often enough, I suppose you can start to think, 'This is real life.' But this is not real life, it's a bubble.
MARTY: The art is important, but the marketing of the movie is almost as important. It is, in fact, a political campaign.
MATT: I don't think any of us realized what a campaign it is.
MIKE: The voting members of the Academy are directly analogous to the convention delegates. And the movie is directly analogous to the candidate.
BEN: All the big movies hire consultants.
MIKE: There are all these considerations. Who has the momentum? Who's peaking too early?
MARTY: I've also learned a lot about the level of journalistic resources that are dedicated to coverage of entertainment. At times you have to wonder, not withstanding all the interest in entertainment, if there's some misallocation of resources.
MARTY: People ask us, 'Can news organizations afford investigative reporting?' It's odd because when you go to these red carpet events, you look around at all the press there, and you can only come to the conclusion that yes, news organizations can.
MIKE: I tell people, 'Investigative reporting is a choice.' When we go to these events, we see hundreds of reporters who are doing entertainment news, celebrity news. It's a choice.
Back to reality soon
Now that the Oscars are over, the campaigning is over, too.
BEN: Monday, it's back to reality.
SACHA: Back to the day job! Many people in Hollywood have told us that after the Oscars are over, everyone moves on quickly.
MIKE: I'm speaking at Boston University, my alma mater, on Tuesday. Then I have to dive back into my project on the Spotlight team.
ROBBY: I'm really a lot better at asking questions than answering them, so I'm kind of looking forward to getting back to journalism.
Victim: 'I just want to say one thing: Thank you.'
But the journalists say they will continue to speak at public screenings of the movie, particularly in university settings, as Mike is on Tuesday. Marty recently attended a screening of the movie at his alma mater, Lehigh University.
MARTY: A thousand people showed up. During the Q&A session, one of the first people to stand up was an 82-year-old man who said he had twice tried to go to the movie, at a local theater, but he had turned around in the parking lot each time.
The reason was that he himself had been abused as a child by a priest at age 12. He had been living with this his entire life. He had never been able to completely shake it.
He had never spoken about it -- in fact he had never spoken about it with his late wife -- and he was talking about it now for the first time. His family was there.
Then he paused, and he said, 'I just want to say one thing: Thank you.'
Baron is now the executive editor of The Washington Post. Carroll runs the Future of News initiative at the MIT Media Lab. Bradlee is the author of the best-selling book "The Kid."
Pfeiffer, Rezendes and Robinson are all at the Globe. Pfeiffer went to WBUR radio for seven years and then came back; she now covers wealth, nonprofits and philanthropy. Robinson works part-time as an editor at large.
Rezendes is the only one of the six still on the actual Spotlight investigative team, which now has more staffers than it did in 2002.