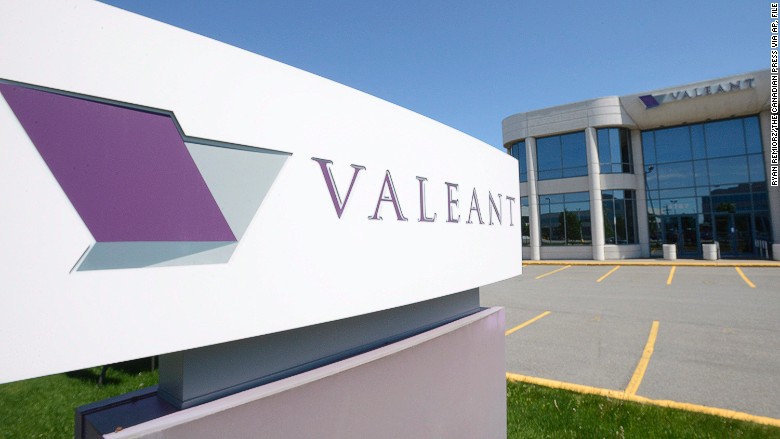 J. Michael Pearson has returned to embattled drugmaker Valeant Pharmaceuticals as CEO after recovering from illness, the company said.
Pearson was hospitalized with pneumonia last December and took medical leave shortly afterward. His return is effective immediately, Valeant said in a statement Sunday.
But he won't be retaining his other position as chairman of the board.
The company said it has separated the CEO and chairman roles. Pharmaceutical industry veteran Robert A. Ingram, who had been serving as interim chairman during Pearson's absence, has been appointed to the role permanently.
The head of Valeant since 2008, Pearson led the company through a period of aggressive expansion.
But his hospitalization came in the middle of difficult time. The pharmaceutical company's stock has been suffering since October when a short-selling firm accused it of massive fraud, likening it to Enron.
Pearson and Valeant have strongly denied the allegations, but they remain under heavy scrutiny.
Federal prosecutors are investigating the way the company prices and distributes drugs. And last week, Valeant said it will have to restate its earnings after it booked millions of dollars in sales at the wrong time.
Related: Valeant must restate earnings after internal probe
It said roughly $58 million in sales to now defunct pharmacy Philidor will have to be shifted to 2015 from 2014 -- meaning the company will delay filing its annual 2015 report to the U.S. Securities and Exchange Commission.
On Sunday, Valeant said it was postponing a call to discuss fourth-quarter 2015 results and give guidance for 2016. It said it is withdrawing prior financial guidance.
While Pearson was on leave, the company's board created an office of the CEO with three top executives. The board also created a committee to oversee the office.
A company spokesperson said the office and the oversight committee are no longer in effect.
- Katie Lobosco contributed to this article