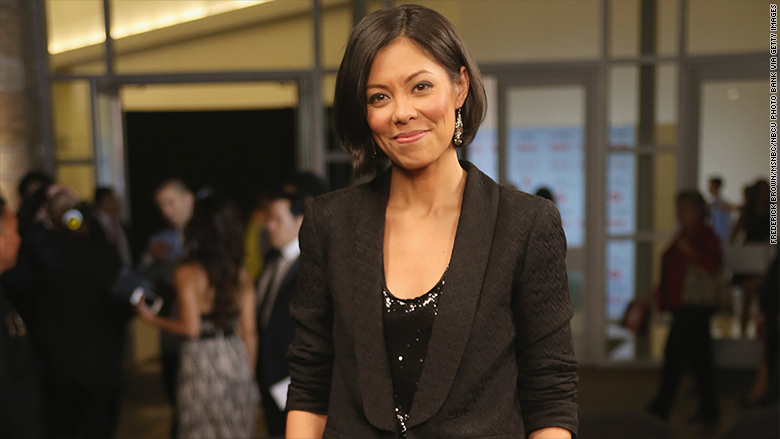 MSNBC will not move forward with previously announced plans to give Alex Wagner her own weekend show, raising questions about the host's future at the network, CNNMoney has learned.
The decision, made earlier this year, threatens to further marginalize Wagner, who's weekday show was canceled last summer amid an overhaul in the network's daytime programming, according to three people at the network.
MSNBC had announced in October that Wagner would be given a new weekend show this year. However, network sources said that NBC News Chairman Andrew Lack decided earlier this year to cancel plans for Wagner's show. An NBC News/MSNBC spokesperson did not respond to a request for comment regarding that decision.
The revelation that Wagner's show won't be going forward was the latest in a string of controversial programming decisions at MSNBC that have come to light in recent days.
Related: Melissa Harris-Perry is out at MSNBC
Last week, Melissa Harris-Perry announced that she would be walking off her show because she felt like she had been "silenced" by MSNBC and placed in a form of cable news purgatory, having been pre-empted for two weekends in a row. Harris-Perry is now in talks with the network about an exit deal.
Jose Diaz-Balart, a weekday morning anchor, has also seen his show pre-empted for several weeks. On Monday, Politico reported that his name does not appear on a tentative schedule for the channel's special Florida-based programming, despite the fact that he is based in Florida.
When asked by fans on Twitter on Monday when he would return, Diaz-Balart responded, Diaz-Balart replied, "Hope to be back soon! Thank you!"
Sign up for the Reliable Sources newsletter
Wagner's own future at the network is uncertain, though there are signs that she may be considering other opportunities. Last week, she served as a guest correspondent on Showtime's "The Circus," a 2016 campaign documentary co-created by MSNBC regulars Mark Halperin and John Heilemann.