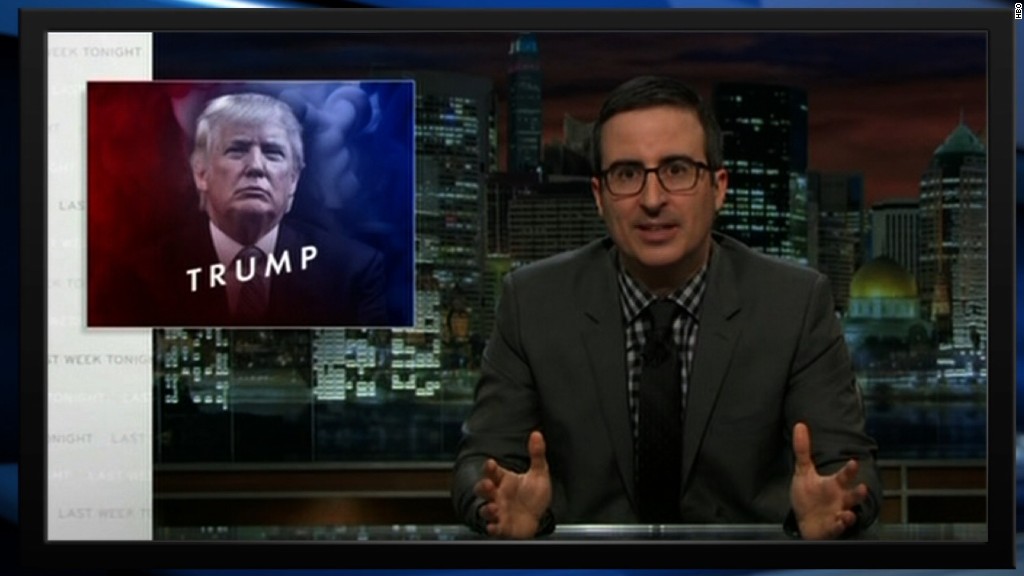 Comedian John Oliver took direct aim at Donald Trump Sunday night. Or maybe it was Donald Drumpf.
The host of HBO's Last Week Tonight took a hard look at Trump's presidential campaign Sunday, taking shots at everything from the Trump family's ancestral name, which he said was once Drumpf, to Trump's campaign funding, his business record, his support by former Klu Klux Klan leader David Duke and his chances of being elected.
Here's some highlights from his attacks on Trump.
Donald Drumpf
Oliver had great fun with the Drumpf name, which is what one biographer said the family's original name was, before it morphed into something much more marketable.
Oliver said he had filed paperwork to trademark the name Drumpf, that he now owned the Web site DonaldJDrumpf.com, and that the site had a program on it that allows users to replace the word Trump with Drumpf anywhere it appears on their browser.
"Stop and take a moment to imagine how you would feel if you just met a guy named Donald Drumpf, a litigious serial liar with a string of broken business ventures and the support of a former Klan leader he can't decide whether or not to condemn," Oliver said. "Would you think he would make a good president, or is the spell now somewhat broken?"
Related: Donald Trump stumbles on David Duke, KKK
Trump is not actually self-funding his campaign
Trump says he's only accepting unsolicited contributions from supporters. But Oliver showed the home page of Trump's Web site which has two buttons that people can click to donate money.
"Money's not unsolicited if you ask for someone's credit card expiration date to receive it," Oliver said.
He also pointed out that Trump has only given $250,000 to the campaign. He has also loaned the campaign $17.5 million, but he can pay himself back later this year with campaign funds that he raises from others.
"If you don't think there's a significant difference between a gift and a loan, try giving your spouse an anniversary loan, and see how that goes," he said.
Related: Donald Trump's German roots: Inside the town that spawned a dynasty
Trump's true business record
Oliver used much of the report to detail Trump's many failed business ventures, including the Trump Shuttle, an former East Coast air service, Trump University, over which he is being sued for fraud, and Trump Mortgage, a mortgage company he started just as the housing bubble was bursting in 2006.
"While Trump has said 'if I put my name on something, you know it's going to be good...' over the years his name has been on some things that have arguably been very ungood," said Oliver.
Related: Donald Trump to be witness in federal case accusing him of fraud
Trump's chances
Oliver said it was time to be concerned about the possibility of Trump being elected, pointing out that polls show he leading most of the Super Tuesday states, and that since 1988, every candidate to win that group of primaries had won the party's nomination.
"Donald Trump is America's back mole. It may have seemed harmless a year ago but now that it's gotten frighteningly bigger, it's no longer wise to ignore it."