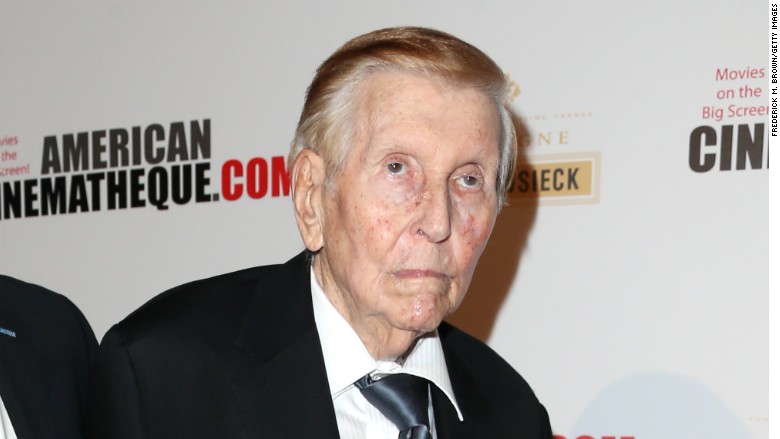 The legal battle over Sumner Redstone's mental competency is going to trial.
Redstone's ex-girlfriend, Manuela Herzer, is battling in Los Angeles County Superior Court for the right to take back legal control of the billionaire media mogul's health decisions.
She's arguing Redstone was not in his right mind when he signed a legal document revoking Herzer's control of his affairs.
Redstone's legal team, however, is arguing that Herzer is a disgruntled past lover acting out of self-interest and Redstone's mind is still sound.
The case reached a major milestone on Monday when Judge David Cowan ordered that it go to trial, saying there was too much conflicting evidence to reach a decision.
Related: Viacom to sell stake in Paramount movie studio
Judge Cowan did not discredit the evaluations of three doctors submitted by the battling attorneys. Redstone's primary care physician and an expert hired by his legal team say he is competent. A geriatric doctor, hired by Herzer, claims he's not.
The judge said the case "should not rest on a paid witness."
Herzer's attorney, Pierce O'Donnell, said in a statement that the ruling was a "great victory" and reiterated Herzer's claims that Sumner is a victim of people "who are preying upon his mental incapacity."
"We now have the evidence to prove that this great man urgently needs the court's protection. All of the shocking evidence will be introduced at the trial," O'Donnell said.
Related: Les Moonves calls CBS promotion a 'great honor'
In sending the matter to court, the ruling did say that "Redstone's mental status is not as clear as it could be." Redstone's personal doctor consulted with a neurologist for help in evaluating him.
Gabrielle Vidal, Sumner Redstone's attorney at Loeb & Loeb, said the ruling is still "a far cry from" being a win.
"We are confident that when the Court has evaluated the evidence it will determine that Mr. Redstone had capacity to change his health care directive and that Ms. Herzer should have no role in his life whatsoever," Vidal said.
Redstone, 92, made a fortune at the helm of media companies. Since the court battle with Herzer began, he's left his positions at Viacom (VIAB) and CBS (CBSA), though he's still the Chairman Emeritus of both companies and is their controlling shareholder.