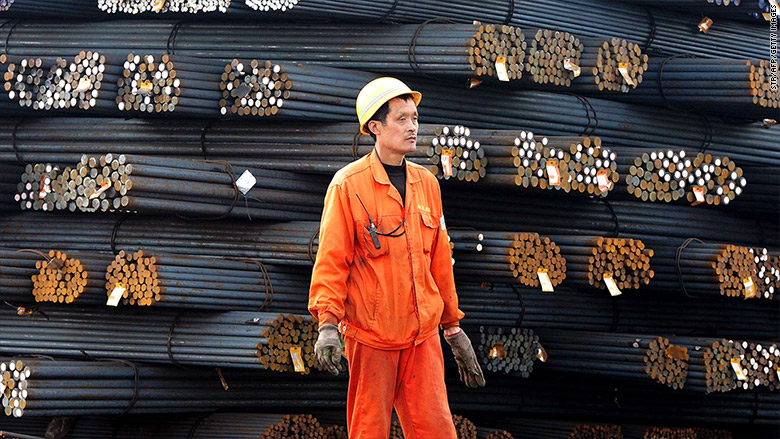 China's workers are starting to feel the pain of the global commodities bust.
The Chinese government said Monday it was planning to shed 1.8 million coal and steel jobs in an effort to reduce excess capacity.
Some 1.3 million jobs will be lost in the coal sector, and 500,000 in the steel industry.
"Although this is a very difficult task, in every respect, it is something that we must actively work to accomplish," said Yin Weimin, China's top human resources and social security official. Yin did not say when the jobs would go.
The cuts represent about 20% and 11% of China's coal and steel jobs, respectively, according to IHS Insight.
China's slowdown has triggered a rout in global commodities. For years, China pumped up its economy by building infrastructure and factories, fueling huge demand for coal and steel.
But the world's second-largest economy is now posting its weakest growth in 25 years, prompting those industries to cut back on investment and jobs around the globe. Now, the layoffs are also hitting China.
Related: China's slowdown is killing thousands of steel jobs
Chinese companies have been accused of selling unwanted steel on world markets for less than it costs to produce and export, suffocating local rivals. A month ago, Europe slapped anti-dumping tariffs on Chinese steel imports in an attempt to save thousands of jobs.
In addition to tackling overcapacity, China's announcement could represent a small step towards reforming its large state-owned companies, which are notorious for inefficiency and wasteful spending.
The government in Beijing has described these companies as "zombies" and made cleaning them up one of its priorities -- but so far little obvious action has been taken.
It has to tread carefully, however, given a growing number of incidents of labor unrest in recent years.
"More aggressive layoffs or more generous compensation would require additional funding," said IHS Insight China economist Brian Jackson.
In a move that could ease the pain of the steel and coal cuts, the Chinese government has earmarked 100 billion yuan ($15.3 billion) over the next two years for unemployment relief, offering training and job placement services.