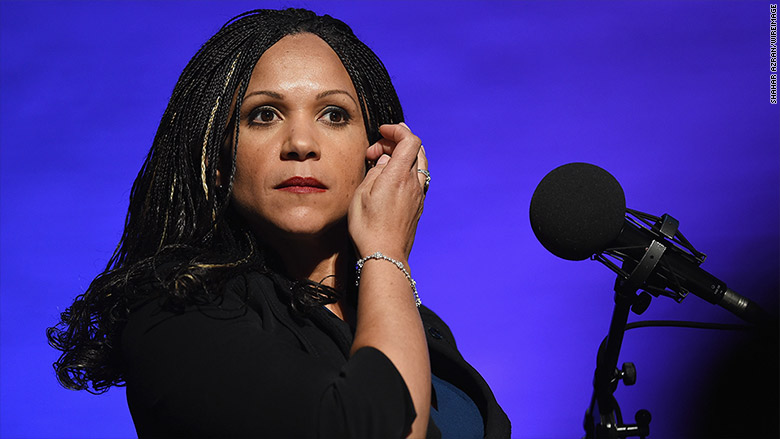 Melissa Harris-Perry has chosen the freedom to speak over an exit package.
On Tuesday, the outgoing MSNBC host said that her exit negotiations with the network fell through after she refused to accept the terms of a non-disparagement clause that she described as "a gag order."
"They wanted me to sign a non-disparagement clause, and we had a deep disagreement over what constituted the non-disparagement clause," Harris-Perry told CNNMoney on Tuesday. "They wanted me not to speak about MSNBC. I said no."
James Perry, Harris-Perry's husband and the one who led the negotiations with MSNBC, said that MSNBC's non-disparagement clause would have restricted his wife to speaking about MSNBC only when it was "positive or in her academic work."
"I'll never get another penny from MSNBC," Harris-Perry said.
The channel announced on Sunday that it was "parting ways" with Harris-Perry. That came two days after she published an email to friends saying that she had been "silenced" because the network had pre-empted her show for two consecutive weekends.
Yvette Miley, the senior vice president of talent and diversity, told CNN that Harris-Perry's show, like others on MSNBC, was only pre-empted in order to focus on the contentious 2016 presidential primary contest and said there were no plans to cancel it or strip Harris-Perry of editorial control.
"MSNBC is the place for politics, and as we're covering 2016 part of that coverage meant that we were going to look for opportunities during the course of 2016 to really focus on the race for the White House," Miley said. "There were pre-emptions that impacted shows across the network."
James Perry confirmed that MSNBC had never expressed any intention to cancel her show prior to her decision to publicize her email. But he also said that the network's treatment of his wife was "consistent with the way they had 'disappeared' other hosts."
"Over the past year, a lot of employees have been disappeared from MSNBC, and what we've observed is there is a clear process for how they've been disappeared: You get taken out of the system and your name as a host is taken out of it as well. And then when you communicate and ask them about it, you don't get any response," Perry said. He declined to provide specific examples.
Both Harris-Perry and James Perry said that she had continuously asked MSNBC's leadership for clarity on her role with the network and received no response.
"Starting around Thanksgiving, I began asking, 'Does anybody know if the show is going to be on air in 2016?" Harris-Perry said.
Holding back tears, Harris-Perry said that she worked hard to support her family, her kids and her mother.
"I support everyone in my family, and I asked, 'do I have a job?' and they wouldn't answer me."
Whatever the case, Harris-Perry's decision to forego an exit agreement has freed her up to speak bluntly about MSNBC and her belief that the decision to cancel her show "has strong racial implications" because it silenced a show that promoted diverse perspectives.
"They wanted us to cover politics in the narrowest sense," Harris-Perry said. "I told my team, we can't allow our own show to go off air and then provide racial cover by having me continue to host the show so people see the little black girl up there."
Related: Melissa Harris-Perry is out at MSNBC
Harris-Perry took to Twitter on Tuesday night to apologize to other former MSNBC hosts of color whose shows were canceled in recent years, including Martin Bashir, Toure and Karen Finney.
"A few apologies: @MartinBashir @Toure @finneyk I am sorry for and ashamed of my earlier silence. I gave into to culture of fear at #MSNBC."
Harris-Perry stopped short of accusing NBC News Chairman Andrew Lack and MSNBC President Phil Griffin of being racially motivated in their decision-making.
"I wouldn't know what Andy Lack is thinking, because I've never met him," she said. "I've literally never had any exchange with him of any kind."
Nevertheless, Harris-Perry's criticism of the network have raised questions about the network's handling of minorities. In addition to Harris-Perry, Bashir, Toure and Finney, several other hosts of color -- including Al Sharpton and Joy Reid -- have seen their shows canceled or moved to weekends. To be sure, several white hosts such as Ronan Farrow, Ed Schultz, Abby Huntsman and Krystal Ball have also seen their shows canceled and left the network.
On Monday, CNNMoney reported that Alex Wagner, who is Asian-American, would not be getting the weekend show she had been promised last year. José Díaz-Balart, who anchors a weekday morning show, has also seen his show pre-empted for 2016 coverage.
Related: MSNBC's Melissa Harris-Perry walks off show in protests