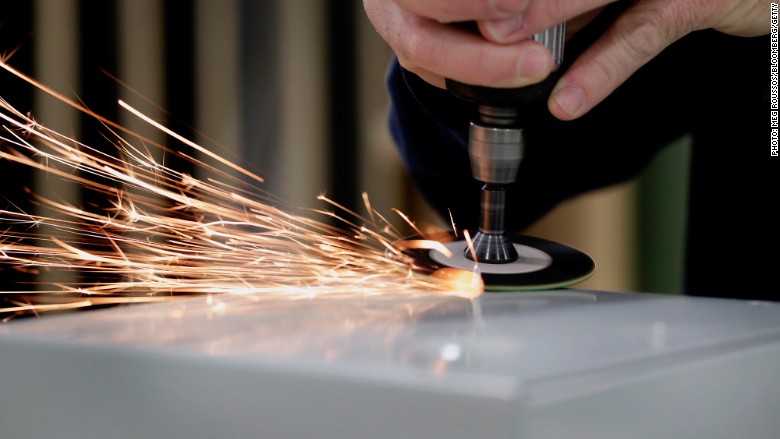 America's assembly lines are hurting.
The U.S. manufacturing sector shrank for the fifth straight month in February. It's the longest recession for the sector since 2009. The ISM manufacturing index hit 49.5% in February. Any number below 50 means the sector contracted.
Right now America's economy has two story lines: shoppers and employers are showing signs of strength and resilience in the face of a gloomy global outlook. But at the same time, the manufacturing sector has nosedived.
The concern is that the trends in services and manufacturing won't diverge forever: At some point, one will help or hurt the other.
"We are on recession watch," says Steve Chiavarone, a portfolio manager at Federated Investors. "Will the services sector remain resilient and pull manufacturing up? Or will manufacturing pull services down?"
Related: Are Trump and Sanders hurting the economy?
The good news is that consumers and services make up 70% of U.S. economic activity. Manufacturing only makes up about 10%.
U.S. manufacturers are reeling from two key factors. Economic growth has slowed down in many developing countries because prices for commodities like oil have plunged over the past year and a half. At the same time, the dollar has gained a lot of value, making American products more expensive -- and less attractive -- to foreign buyers.
The February manufacturing number has a silver lining: it's better than January (48.2%) and December (48%). Economists also had predicted a lower figure for February. But it's still in the red.
And the fundamental factors probably won't change soon: global growth is expected to remain low for the next few years and the dollar is expected to stay strong against many currencies if the Federal Reserve continues to raise interest rates.