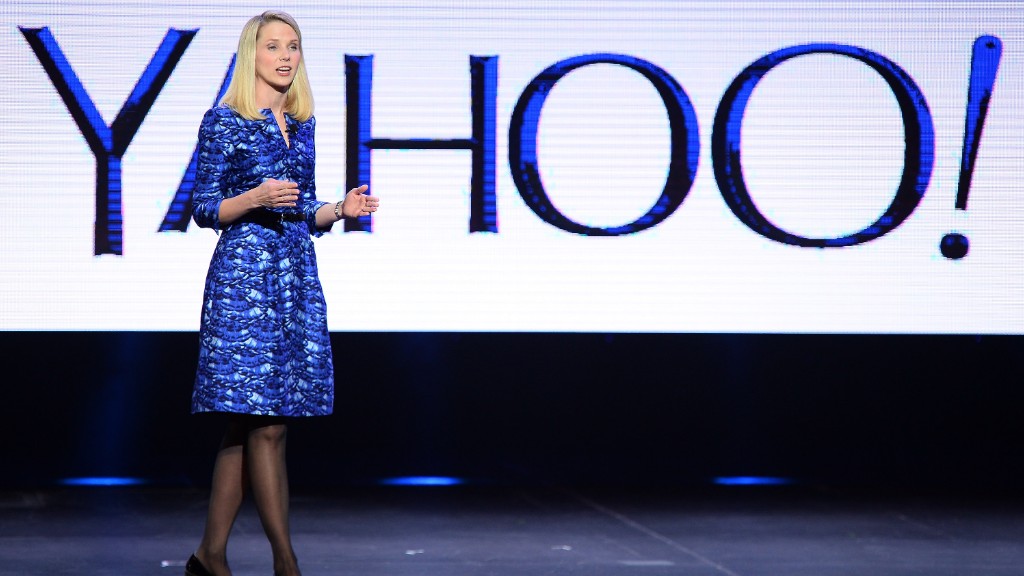 It's been a tough few years for Yahoo. But they've been very lucrative for some of its executives.
Take Lisa Utzschneider, who came on board in 2014 as a senior vice president of sales with a starting pay package of a staggering $18 million.
She's since been promoted to chief revenue officer, which is why the company disclosed her original pay package in a filing on Monday. It consisted of $600,000 base salary, a signing bonus of $1 million, an incentive bonus targeted at 90% of her base pay or $540,000, as well as company stock worth an estimated $16 million.
Utzschneider had been vice president of global advertising sales at Amazon (AMZN) when she was hired away in October 2014.
While she apparently did well enough in her initial job to earn a promotion, things haven't been great at Yahoo (YHOO).
It said it may sell its core operations after it posted a $4.4 billion loss last year.
Yahoo shed 1,200 jobs during 2015, according to Monday's filing, or about 10% of its staff. It's also disclosed plans to cut an additional 15% of its staff this year.
Related: Will Marissa Mayer be Yahoo's last CEO?
The company didn't disclosed whether Utzschneider got a raise along with her promotion to chief revenue officer in July of last year. But even if she didn't get a bump, $18 million is a hefty pay package for a chief revenue officer.
The company's chief financial officer Ken Goldman, received $13 million for 2014, the most recent year for which details are available. Ronald Bell, the company's general counsel, received $4.2 million.
CEO Marissa Mayer, who is under fire from some investors for the company's financial situation, received $42.1 million for 2014, making her one of the nation's top paid CEOs.
The company had no comment on Utzschneider's pay package beyond the filing. Her current pay package, as well as that of the other top executives, will be disclosed when Yahoo files its proxy statement later this spring.