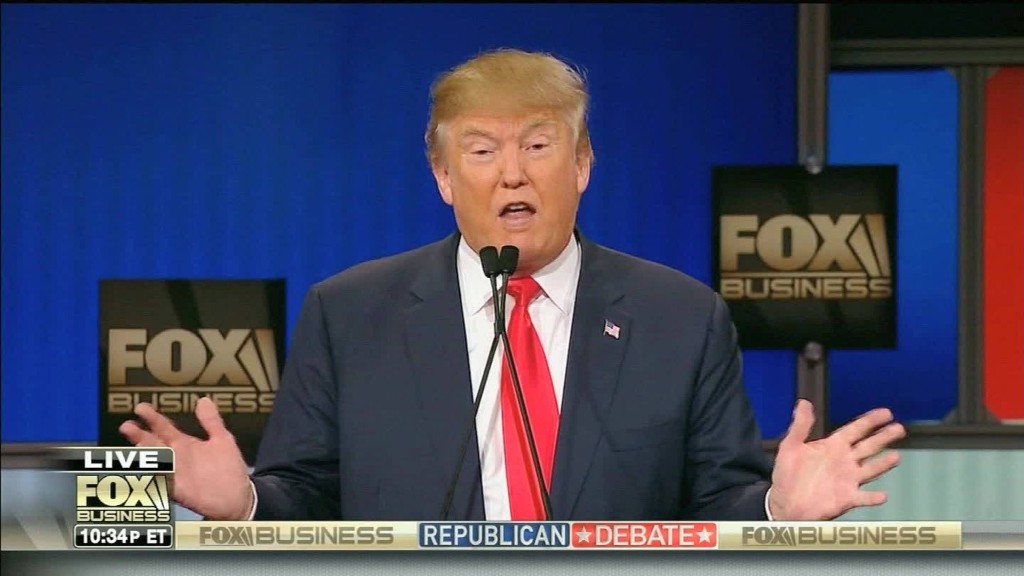 The factory floor in Southern China is grimy and the air smells like metal. Loud clanging limits conversation as steel is punched and bent and molded into the light fixtures they will soon become.
This is Xie Li Factory, and the goods made here that get exported around the globe, are part of what Republican presidential candidate Donald Trump loves to bash most.
He's repeatedly fingered China for engaging in unfair trade practices. "They're killing our companies," he said.
Trump's solution? Slap a tariff on some goods imported from China. The idea is that it would make it more expensive for firms to buy from Chinese factories, forcing them to send business back to American companies.
Related: China credit rating outlook cut to negative over debt concerns
But at least one U.S. businessman, Ben Schwall, who sources from Xie Li, says that higher taxes on Chinese goods wouldn't accomplish any of that, and instead, would eventually burden the middle-class consumer.
"We can do it, but when it's all said and done the only person who could afford a light fixture would be Donald Trump," said Schwall, the president of Systems Technology Group, a company that helps U.S. firms buy Chinese-made products. "When you really think about it and understand what it means, it's not such a great thing."
A new tariff -- and therefore, a higher import cost -- would simply push U.S. companies to raise prices in order to keep turning a profit. That means the average shopper in the U.S. would be forced to pay more.
In the long run, businesses would eventually seek to move production elsewhere, like Vietnam or India, where costs are cheaper -- the same reason they moved to China in the first place.
Related: Why it would be tough for Trump to bring jobs back from China
That's because manufacturing in the U.S. still remains expensive by comparison -- lighting components, like the ones made in Xie Li, would cost five times more to make stateside, Schwall estimated.
The fact is, he said, American consumers benefit from the production of cheap goods elsewhere.
Still, others have agreed with Trump's claims about China's trade tactics. The U.S. and other governments have long accused China of artificially keeping the value of its currency low, making its exports cheap and attractive.
It's a strategy that helped fuel China's rapid economic rise over recent decades. And it's even cemented the U.S.-China trade relationship -- America now imports more products from China than anywhere else in the world.
But it remains a fragile relationship, and Schwall warns that attacking Chinese exports with new tariffs could only escalate to a full-blown trade war -- something no one wants.
To him, the "Chinese economic threat to the U.S. that Trump talks about is overblown."