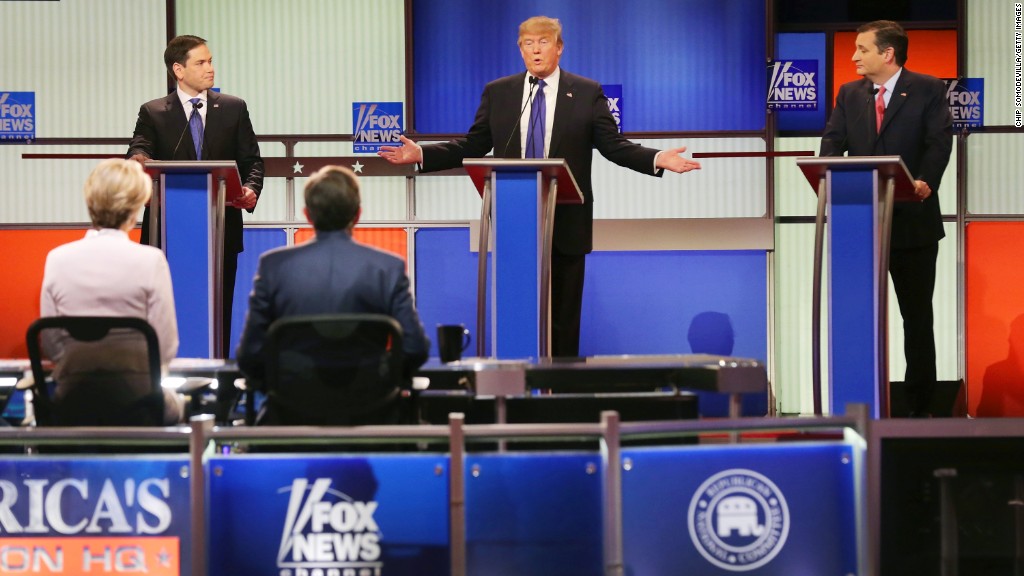 Donald Trump consulted with his campaign manager during the first commercial break at Thursday night's Republican debate, violating ground rules from Fox News stating that candidates would not be allowed to have contact with their campaigns, rival campaign sources told CNNMoney.
While that exchange was the clearest violation of debate rules to date, the sources said, it followed a pattern: At multiple debates, Trump has consulted with his campaign manager Corey Lewandowski backstage even though it was expressly forbidden by the networks.
Thursday night's debate in Detroit marked a new extreme, however, as Lewandowski went directly onto the stage to meet with Trump during the commercial break. As in previous debates, Fox News had explicitly informed the campaigns that candidates were not allowed to communicate with their campaign staff during commercial breaks, the sources said.
When Lewandowski was asked by Fox News staff to leave the stage, he refused to do so, according to a source at Fox News.
Lewandowski and Trump campaign spokesperson Hope Hicks did not respond to requests for comment.
Unable to get Lewandowski off the stage, Fox News representatives informed the other three campaigns that, because the Trump campaign had broken the rules, they too could consult with their candidates.
To date, Fox News is the only network to try to remedy the situation by inviting other campaigns backstage.
Representatives from the Ted Cruz and John Kasich campaigns immediately made the trek to the backstage wings, while a senior adviser to Marco Rubio did so later.
The Cruz and Kasich aides were on hand backstage to advise their candidates for all of the remaining commercial breaks, while Rubio's adviser was on hand for the last half of the debate. However, the aides spent little time interacting with their candidates, the sources said. The one exception was Rubio aide Todd Harris, who consulted with his candidate during the final commercial break.
Rowdy Detroit audience raises question: Should debates have audiences?
Exactly what Trump and Lewandowski discussed is unclear, though at one point during a break Trump handed the Fox News moderators a fax from the Better Business Bureau showing that they had upgraded their rating for Trump University to an "A" grade -- a point that Trump had tried to make repeatedly while being asked to defend the "D-" rating that the University received in 2010.