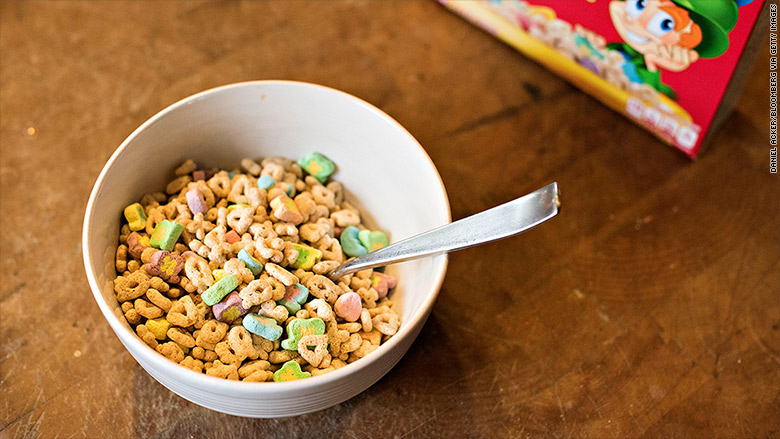 It's National Cereal Day! So let's raise a spoon and a bowl (carefully so the milk doesn't spill) in honor of one of America's favorite breakfasts.
That's exactly what Wall Street has been doing lately. Investors have been cuckoo for Cocoa Puffs -- as well as Frosted Flakes, Fruity Pebbles and Life -- pretty much all year.
Shares of Kellogg (K) and General Mills (GIS) are up more than 4% so far in 2016, bucking the downward trend for the broader market. Post Holdings (POST) has soared more than 16%
And Pepsi (PEP), which owns Quaker Foods, is flat -- which is not too shabby given how soggy this market has been.
I prefer my cereal to be crunchy. What say you? Vote in my #NationalCerealDay Twitter poll!
So why have these stocks held up better than the rest of the market? It's not because cereal sales are soaring.
In fact, revenues for Kellogg and General Mills (which also owns Häagen-Dazs, Yoplait and Pillsbury) are expected to fall this year.
And in Pepsi's most recent quarter, sales were down at Quaker. Pepsi's soda and Frito-Lay snacks businesses are the ones reporting growth.
Related: Breakfast is changing. Is it for the better?
Demand for cereal has been weakening for years as consumers think more about what's in their food. And let's be honest, a bowl of sugary cereal isn't necessarily the most nutritious breakfast. The colors in many fruity cereals don't really exist in nature.
The big cereal companies are trying to win back consumers with healthier fare.
General Mills said last year that it plans to have 90% of its cereals free of artificial colors and sweeteners by the end of 2016 while Kellogg promised to do the same by 2018.
Cereal makers are also hoping that acquisitions can boost stagnant growth.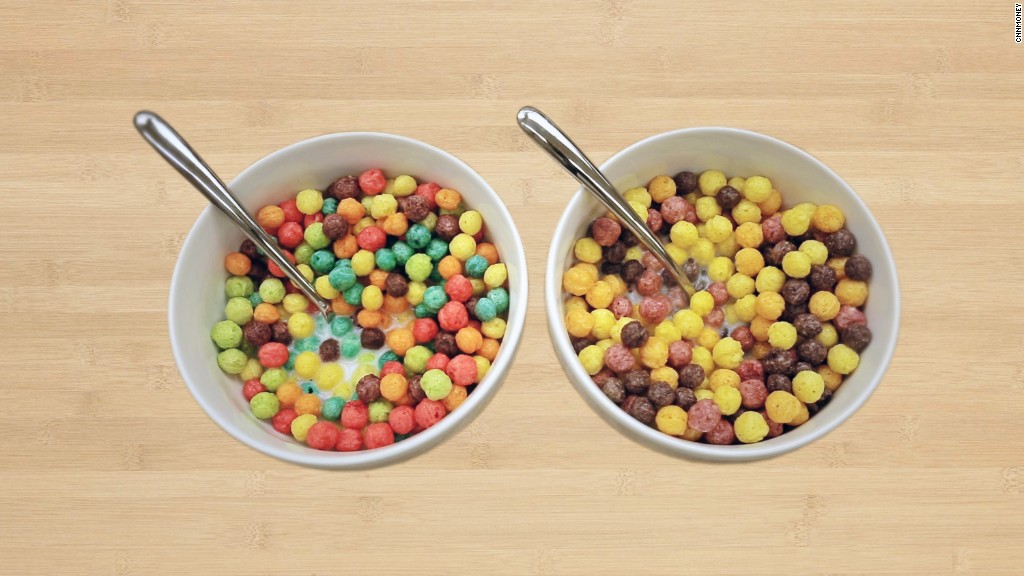 Sign up for the Quest Means Business newsletter
Kellogg has been targeting emerging markets -- it bought Egyptian biscuit company Bisco Misr and Egyptian cereal maker Mass Food Group last year.
General Mills has made a bigger push into organic with its recent purchase of Annie's. And Post is doubling down on private label cereal. It bought Malt-O-Meal maker MOM Brands for nearly $1.2 billion last year.
Related: Tom Brady goes to war with Coke and Frosted Flakes
At the end of the day -- which also happens to be a good time for a bowl of cereal for many night owls -- the main reason these stocks are attractive is because they are pretty stodgy and safe.
Kellogg and General Mills may not offer that much in the way of sales growth. But they both pay dividends that yield nearly 3%. Ditto for the far more diversified Pepsi.
Post does not pay a dividend. But investors seem to like the aggressive acquisition strategy. In addition to the MOM deal, Post also bought egg producer Willamette and merged it with its Michael Foods egg unit.
Mmm. Eggs. About the only breakfast food more quintessential than cereal.
And in case you were wondering, National Egg Day is June 3. Not to be confused with National Eggs Benedict Day (April 16), National Deviled Egg Day (November 2) or World Egg Day (October 14).