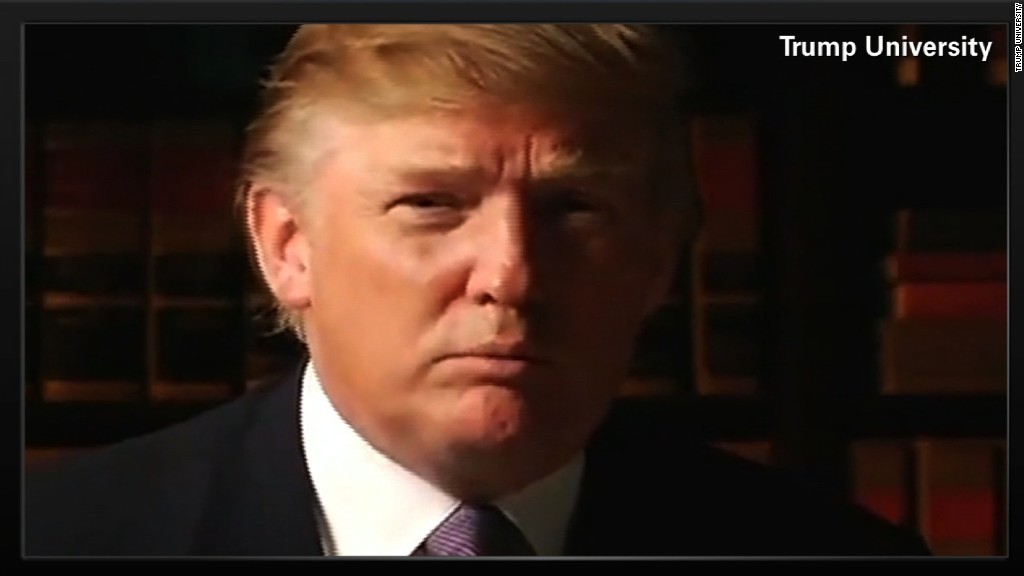 Donald Trump has been catching heat for lawsuits against him and Trump University, a real estate seminar business he created in 2005.
The company, which promised to teach students the mogul's investing techniques to get rich on real estate, is now defunct.
But civil lawsuits against it and against Trump himself are very much alive.
1. There are three separate lawsuits.
Two federal class-action suits in California were filed by former students. The first, Tarla Makaeff v. Trump University, was filed in 2010. The second, Art Cohen v. Donald J. Trump, was filed in 2013. A state-based suit -- People v. Trump Entrepreneur Initiative LLC -- was filed in New York by State Attorney General Eric Schneiderman in 2013.
Together the cases represent the interests of thousands of former Trump University students.
2. The lawsuits claim students were hoodwinked.
Those named in the California cases say Trump University teachers were not hand-picked by Trump as advertised, but rather independent contractors paid commissions for sales of the seminars and products.
Schneiderman's $40 million civil suit, which accuses the program of deceptive business practices, alleged that its advertisements made false claims, including that Trump handpicked the instructors and that consumers who took the seminars would receive access to private sources of financing -- i.e., "hard money lenders."
"It was a classic bait-and-switch scheme," he told CNN.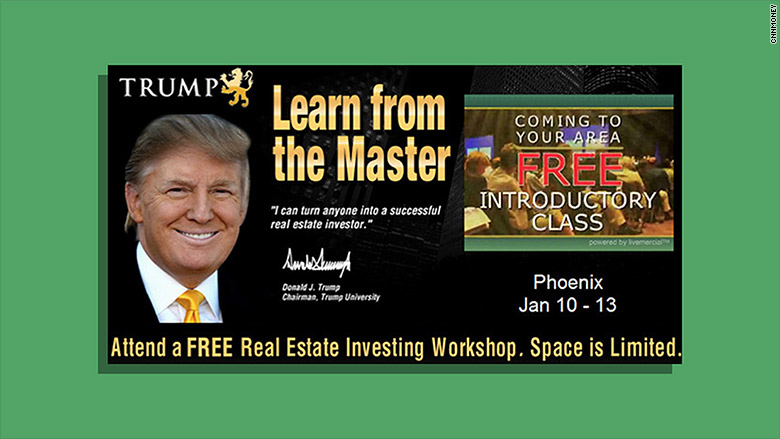 3. Some paid tens of thousands of dollars.
Trump University would "upsell" students in its initial free seminar to buy a $1,495 "one year apprenticeship" -- which was effectively a three-day seminar, the Cohen suit asserts. And if they bought that, teachers would upsell them again to buy "mentorships" at a cost of $10,000 and up. The most expensive, the Gold Elite program, cost $35,000.
4. Trump U wasn't an accredited "school."
In 2010, the New York Department of Education demanded that the name Trump University be changed since it was misleading and in violation of the state's education laws, according to the New York Daily News.
Trump University was subsequently renamed the Trump Entrepreneur Initiative.
Schneiderman's suit alleges that the business was warned by the state's education department as early as 2005 that it was violating state law by calling itself a university, but nevertheless continued to do business under that name for five years.
5. Former employees of Trump U are among its harshest critics.
Former employees said in sworn statements that the seminar business engaged in unethical sales techniques and hired unqualified instructors.
"They were unqualified people posing as Donald Trump's 'right-hand men,'" said Jason Nicholas, a former employee. "They were teaching methods that were unethical, and they had had little to no experience flipping properties or doing real estate deals. It was a facade, a total lie."
6. Trump U's playbooks revealed aggressive sales tactics.
Recently unsealed Trump University sales and marketing materials lay out a very methodical, hard-hitting approach to selling consumers on various course packages, even if they have to go into debt to enroll:
For instance, the playbooks suggest this rebuttal to anyone hesitant to use a recently paid off credit card: "[D]o you like living paycheck to paycheck? ... Do you enjoy seeing everyone else but yourself in their dream houses ...? Those people saw an opportunity, and didn't make excuses, like what you're doing now."
7. Trump says he's innocent.
Trump's camp rejects the class action suits' claims as "baseless." And Trump has charged that Schneiderman was politically motivated in his decision to bring the New York case.
Trump himself has said repeatedly that he "easily" could have settled the cases -- which he characterizes as "minor." But he has chosen not to.
8. He suggested he wasn't too involved in hiring.
In a deposition in the Cohen case last December, Trump suggested under oath that he was not very involved in hiring instructors, despite the program's promotional materials suggesting otherwise and his lawyers asserting he was "very involved."
Rather, Trump said, "I would see résumés. ... I told [Trump University president Michael Sexton] I want very good people." He also said he did not personally select instructors for 2009 live seminars.
Sexton noted the same under oath: "None of our instructors at the live events were handpicked by Donald Trump."
Trump also didn't contest the plaintiffs' assertion that the training program gave refunds to 25% of students. He claimed not to know the specific percentage but asserted that he paid "millions and millions of dollars in refunds."
9. Trump has already lost a few battles.
In 2014, a New York trial court found Trump University and Trump himself liable for running an unlicensed school. It also authorized Trump's attorneys to take the depositions of the more than 5,000 consumers for whom the attorney general is seeking restitution.
Then in March, a New York court declined to throw out the fraud case brought by Schneiderman, rejecting arguments from Donald Trump's lawyers that it should be dismissed under the statute of limitations.
Trump lost his case countersuing Makaeff for defamation. A judge ordered him to pay $800,000 to cover her attorneys' fees.
10. The trials may not start until after the presidential election.
Given Trump's refusal to settle so far, the suits likely will continue. Trump even suggested in a GOP debate that the cases could go on for a "couple of years."
A trial date of Nov. 28 has been set in one of the California cases, where Trump will testify, his lawyer said.
And a New York court will hear the case brought by Schneiderman, possibly as early as this fall although timing is uncertain.
Meanwhile, Makaeff was allowed to withdraw her name as lead plaintiff in the first California class-action suit. According to the motion her lawyers filed, "Makaeff wants her life back without living in fear of being disparaged by Trump on national television."
-- CNN's Chris Isidore, Drew Griffin, Nelli Black and Curt Devine contributed to this story
Did you attend Trump University? Share your story with CNNMoney by emailing Logan.Whiteside@turner.com.