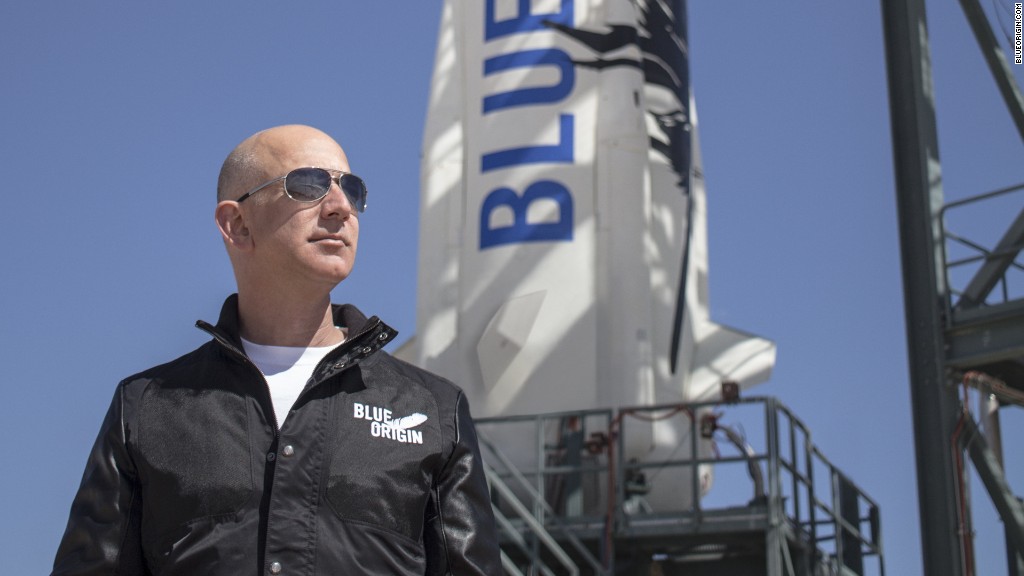 Jeff Bezos says his rocket company will start sending tourists into space by 2018.
Blue Origin, a space company owned by the Amazon (AMZN) CEO, has been working on how to send people into orbit for the past decade.
In November, Blue Origin beat rival SpaceX by successfully launching a rocket into outer space and then landing it upright upon its return to Earth. Blue Origin repeated the launch-and-return journey in January.
Now, Bezos said he's almost ready to start sitting people on top of those rockets.
If the tests continue to progress as expected, Bezos will send pilots on test runs in 2017, and tourists into space in 2018, according to multiple news reports. Bezos opened up Blue Origin's Kent, Washington, headquarters to a handful of reporters for the first time last week.
Blue Origin will send tourists, six at a time, about 60 miles above the Earth. That's just above the edge of space. Passengers will experience weightlessness and each will receive an HD video of their trip when they return. Tourists will have to travel to West Texas and spend a day training prior to liftoff.
Related: SpaceX tries, tries again
Bezos told reporters that reusing rockets will allow the company to launch dozens of times each year. Since expensive rockets are typically used only once, companies are limited to at most 10 times a year.
Blue Origin is taking names of people interested in hopping aboard a future flight. But it has yet to announce how much it will cost or how many people have signed up.
Bezos has been engaged in a billionaires' battle over space during the past few years. Despite the exciting promise of commercial space programs, Bezos and his rivals have had their share of setbacks.
Elon Musk's SpaceX has contracts with NASA, and has successfully launched several rockets into space. But SpaceX has only been able to stick the landing once in its multiple attempts to reuse rockets. Musk took a few potshots at Blue Origin, noting the SpaceX launches and landings are significantly more complex and difficult to achieve.
Richard Branson's Virgin Galactic faced a major setback in 2014 when an experimental rocket ship crashed, leaving one pilot dead.
And before Blue Origin's last two successful launches and landings, it failed to recover a version of its New Shepard rocket in April, after a problem with the hydraulic system.