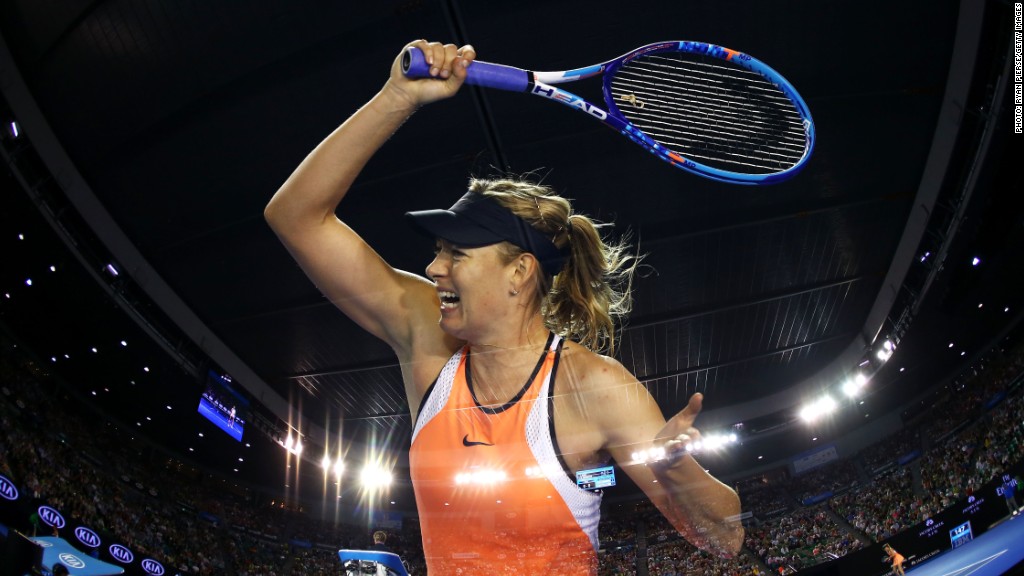 Not every sponsor is ditching Maria Sharapova.
The tennis star can count on HEAD to keep her supplied with tennis racquets. The sports equipment company said Thursday it intends to extend its contract with the player.
HEAD said it was "proud to stand behind Maria," who they believe made an "honest mistake."
Sharapova lost several major sponsorship deals after she admitted failing a drug test at this year's Australian Open. The tennis star and the world's highest-paid female athlete said she'd been taking the drug meldonium since 2006 and didn't realize it was declared a banned substance by the World Anti-Doping Agency at the start of 2016.
The 28-year-old Russian star said she began taking the drug for a magnesium deficiency and irregular EKGs, which can signal problems with the heart's electrical activity. Her family also has a history of diabetes, she added.
Related: Related: Nike's long list of disgraced athletes
HEAD said the circumstantial evidence is "beyond doubt" that her use of the drug after it was banned was "a manifest error."
"Maria may have made a mistake, but she has earned the benefit of the doubt and we are extending it to her," said Johan Eliasch, the CEO of HEAD.
Sharapova has been under an exclusive contract with HEAD for racquets, strings and grips since 2011, and the company said it looks forward to "many more years of working with Maria."
Related: Is Maria Sharapova paying too high a price?
"For more than a decade, Maria Sharapova has been a role model and woman of integrity who has inspired millions of fans around the world to play and watch tennis ... the honesty and courage she displayed in announcing and acknowledging her mistake was admirable," Eliasch said.
Head is one of the few companies sticking with Sharapova after her shocking announcement on Monday.
Nike (NKE) said it was "saddened and surprised by the news" and decided to suspend their deal with Sharapova.
Automaker Porsche, owned by Volkswagen (VLKAF), postponed all planned activities with the athlete. The Swiss watch brand TAG Heuer, part of the LVMH (LVMHF) group, said it was suspending negotiations with the tennis player about renewing a sponsorship deal that ended in December.