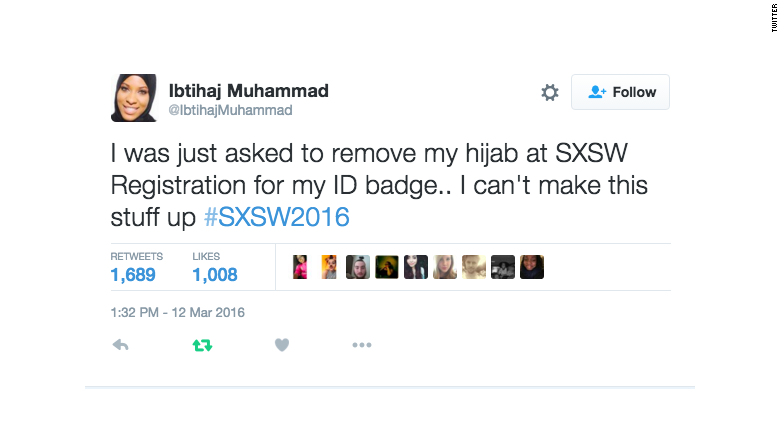 Olympic fencer Ibtihaj Muhammad was asked to remove her hijab while registering at SXSW.
Muhammad was checking in at the Austin-based festival on Saturday and was asked to take her headscarf off. She explained that she was wearing it for religious reasons -- and then was asked again to take it off for her photo ID.
She tweeted about the experience: "I can't make this stuff up."
She will be the first American woman to compete in the Olympics wearing a hijab.
The news upset SXSW organizers. The conference has made a concerted effort to be more inclusive this year, devoting a series of panels to the issue of online harassment on Saturday, and to diversity and inclusion on Sunday.
In a statement sent to CNNMoney, SXSW said: "We are embarrassed by this and have apologized to Ibtihaj in person, and sincerely regret this incident."
"This was one volunteer who made an insensitive request and that person has been removed for the duration of the event," the statement continued. "It is not our policy that a hijab or any religious head covering be removed in order to pick up a SXSW badge."
More than 1,800 people had reposted Muhammad's tweet on Saturday afternoon. In addition to being an athlete, Muhammad also heads up Louella, an apparel startup for modest clothing.
Muhammad did not immediately respond to requests for comment.