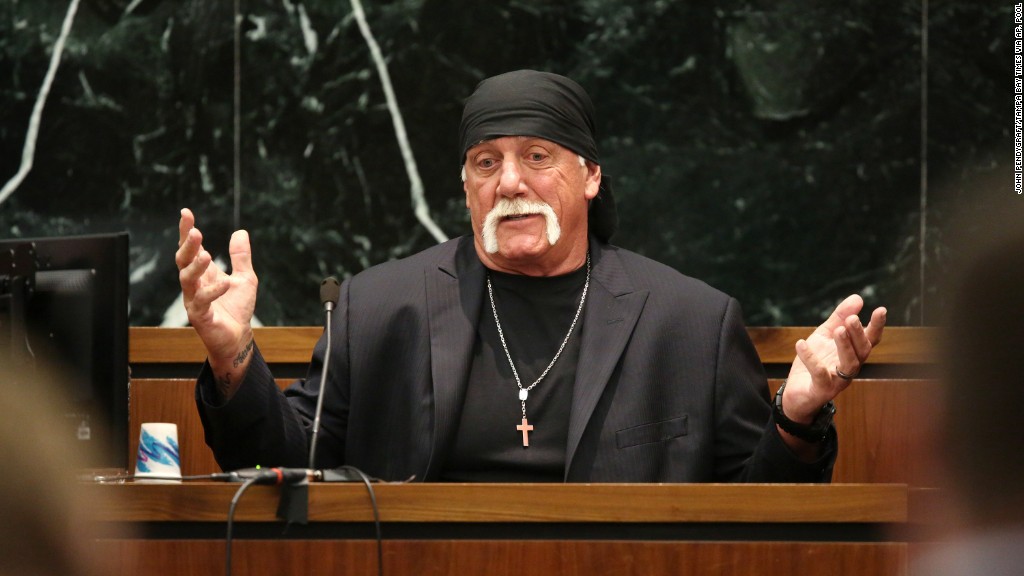 When he posted portions of Hulk Hogan's sex tape, A.J. Daulerio says he was merely practicing journalism. He had followed reports about the titillating footage in the news, and when the tape fell into his possession, Daulerio decided to tell the story himself.
Daulerio, a former top editor at Gawker, testified Monday in a St. Petersburg, Florida courtroom, at Hogan's $100 million invasion of privacy trial.
The former professional wrestler, whose real name is Terry Bollea, is suing Daulerio, Gawker founder Nick Denton and the site's parent company over publishing the excerpts of the sex tape in 2012.
Last week, Hogan's attorneys tried to paint Daulerio as a ruthless blogger whose only concern is driving web traffic.
Daulerio said on the stand Monday that he received a $2,000 bonus the month the Hogan video was posted. He admits that didn't consider Hogan's emotional well-being before posting the footage.
That wasn't his job, Daulerio said Monday.
"It can come off as pretty callous ... but that is the job of a journalist to put information out there that's fair and accurate," Daulerio said.
That's Gawker's central defense in the case: Hogan's sex tape was legitimately newsworthy, and thus, publishing it should be protected by the First Amendment.
Later in the day, Denton conveyed to the court what he considers Gawker's foundational principle: That a conversation between two journalists over a drink is more interesting than what actually makes it in the newspaper.
"You can call it gossipy," he said. "I just like to call it true."
Related: Hogan's expert witness struggles on the stand
Gawker attorney Michael Sullivan asked Daulerio to recall when he first learned about the existence of the sex tape, which showed Hogan having sex with Heather Clem, then the wife of his close friend, radio host Bubba "the Love Sponge" Clem.
Daulerio said he first read about it on TMZ in March of 2012. Months later, in the fall, talent agent Tony Burton said he had a client who wanted to send Daulerio a package.
Daulerio said the package contained a 30-minute tape and arrived with no return mailing address. He still doesn't know who sent it.
Daulerio said he asked Gawker's video editor to whittle the tape down to include only nine seconds of sex because he wasn't all that interested in the most graphic portions.
"I wanted the more innocuous and banal conversations between Mr. Hogan and Mrs. Clem," Daulerio said.
The "very brief portions" of graphic footage were only included, he said, to "confirm they were in fact having sex."
Daulerio, 41, was calm throughout direct questioning, and presented himself better than he did during taped depositions shown in court last week.
Sullivan asked Daulerio to clarify perhaps the most infamous part of one deposition, during which the defendant said flippantly that he would only refuse a sex tape of a four-year-old child.
Related: Hulk Hogan trial testimony gets raunchy
Daulerio insisted he wasn't serious, and that the attorneys present in the deposition were "100%" clear he was being sarcastic.
Hogan attorney Shane Vogt pounced on the line during cross-examination.
"You were making a joke about child pornography, were you not?" Vogt snapped.
Did he think it was funny to joke about that, the attorney asked.
"No, not at all," Daulerio said.
Vogt also used the cross-examination to take aim at Gawker's free speech argument. The company asserts that the sex tape was newsworthy, in part because of how open Hogan has been about that part of his life in books and media appearances.
But Vogt noted that the story Daulerio wrote didn't include any mention of Hogan's autobiography or his reality show, two venues where the plaintiff spoke candidly about his sexual exploits.
The plaintiff's legal team argues that Gawker could have told the story without showing the most explicit scenes. In one particularly testy exchange, Vogt asked Daulerio if he included a shot of Hogan's penis just to "add some color."
"Mr. Bollea's penis had no news value, did it?" Vogt asked.
It did not, the defendant said.
"I included images of his penis because that's sometimes what happens when two people have sex," Daulerio said sharply. "There are nude body parts involved."